Advancing Sustainability
2014-15 Baird Sustainability Fellows announced
Now in its third year, the Baird Sustainability Fellows program recognizes Dickinson seniors who have advanced sustainability goals through their scholarship, leadership and service efforts. Named for Spencer Fullerton Baird, a prominent 19th-century naturalist and Dickinson alumnus, the program this year brings together 12 students for collaborative projects and research to help create a sustainable world. Read about Chloe and Tabea's missions below.
Chloe Miller, Archeology and Anthropology Major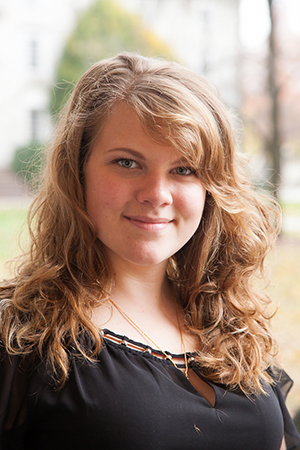 Chloe Miller '15
Chloé Miller is double majoring in archaeology and anthropology. Sustainability not only plays an important role in her academic fields, but also in her personal life. Raised in a Catholic and Native American household, she believes it is her responsibility to help return balance to the Earth for the sake of future generations. Chloé's unique upbringing has guided her academic pursuits to understanding the dynamic, synergetic relationship between anthropogenic forces, human biology, and the natural landscape.
Her interests have taken her all over the world, from the Altiplano of Bolivia to Transylvania, Romania. While in Bolivia with Dr. Maria Bruno and Dr. Christine Hastorf, Chloé saw how past human interactions with the environment have evolved into the agricultural practices of contemporary highland farmers. She also observed how Bolivian politics, social inequalities, and the high global demand for quinoa is negatively impacting these farming groups. In Transylvania, Romania, she participated in a communal archaeology project that involved collecting information about medieval churches once forgotten by the Székely people, a long-existing Hungarian ethnic minority. Seeing this loss, which was the product of socioeconomic and political forces, first hand has inspired her to apply for a Fulbright Research Grant. She plans to return and provide support through complementary research about the historical relationship between pre- and post- Christian traditions among the Székely by using bioarchaeology and mortuary analysis.
On campus, Chloé works as a GIS intern where she helps Facilities map and analyze different aspects of the Dickinson campus and sustainability projects. She also helps the Classics Department cultivate a sense of cultural sustainability by spreading awareness of classical Greco-Roman culture as the Classics House Manager and as a Latin Club Teacher.
Chloé believes that a biocultural approach to understanding the human condition is a unique and understated aspect of sustainability, so she is excited to bring this to the colloquium. She hopes to represent a different perspective of sustainability that recognizes the need to not only understand how humans are affecting the environment but also how we our affecting ourselves.
Tabea Zimmermann, Environmental Science Major & French Minor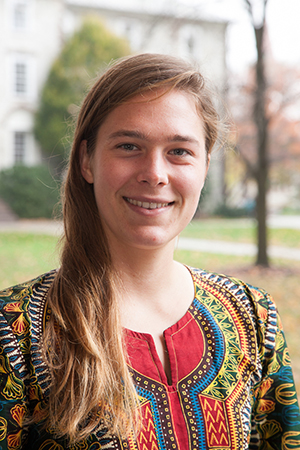 Tabea Zimmerman '15
Tabea Zimmermann is an Environmental Science major with a minor in French. In her time at Dickinson, Tabea has participated in many opportunities that have shaped her view of the natural environment and how humans use and value it. Her work at the college farm and with the Alliance for Aquatic Resource Monitoring (ALLARM) served as foundations for two different study abroad experiences. Last year, Tabea spent a science-intensive semester in Cape Cod, MA studying the biogeochemistry of aquatic and terrestrial ecosystems with the Marine Biological Laboratory. In the spring, she replaced her lab coat and safety glasses with sandals and a camera as she explored the culture and society of Cameroon. Here it became apparent that sustainability is just as much a factor of a people's history, economy, and culture and it is about the natural environment surrounding it.
At Dickinson, Tabea is studying how different lakes have responded to environmental stresses such as climate change and atmospheric deposition and which lakes will be most sensitive to future disturbances. When she's not happily buried in science, Tabea enjoys running with the cross country team, tooting her oboe, and reconnecting with friends. She's looking forward to collaborating with a diverse group of students and having time to reflect on her recent experiences while continuing to evolve her understanding of sustainability and what it means to be an engaged member of her local and world-wide communities.
To read more:
http://www.dickinson.edu/news/article/1304/advancing_sustainability