At times it is difficult to apologize and take ownership for one's personal wrongdoings, but what happens if the government neglects ownership for its own misconducts? Layli Long Soldiers' poem, "WHEREAS" (2017), explores this tension in an Apology written by the U.S. Government to Native Americans. In the story, the main character encounters a man who is content with the apology letter. However, when the main character does not share her own thoughts with the man, she later feels regretful. This sense of regret is captured through metaphor.
In the poem, Soldier says "whereas since the moment had passed I accept what's done and the knife of my conscience pierces with bone-clean self-honesty;" (Soldier 1).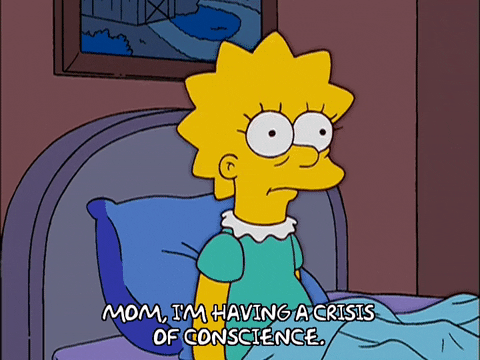 The phrase, "the moment," references the author's encounter with the "blue-eyed man" at the beginning of the poem (Soldier 1). Her conversation with the man made her feel as if she had missed an opportunity to enlighten him on the government's lack of ownership in their apology. This idea is referenced through how she "accept[ed] what [was] done" (Soldier 1). During her conversation with the man, she did not voice her dissatisfaction with the vagueness of the Apology. She never mentioned her discontent with the fact that the Apology did not take responsibility for the genocide they committed against the Native Americans. This idea is represented through the metaphor of the knife piercing her conscience. She feels a pain in her conscience because she did not speak out against the Apology. Her conscience tells her what is right from wrong and it is experiencing a piercing pain since she knows it is wrong to stay silent. The knife piercing her conscience is like the moral guilt she feels from staying silent. Her conscience forces her to accept her obligation to voice her dissatisfaction with the Apology in the future.
The Apology neglects the inclusion of the term "genocide," but uses other words to describe the atrocities made against Native Americans. In the Apology, it refuses to address genocide by saying that:
"[U.S. citizens apologize] for the many instances of violence, maltreatment, and neglect inflicted on Native peoples" (Native American Apology Resolution 5).
The use of the words "violence" and "maltreatment" are a replacement for the term genocide. The Apology does not take ownership for genocide and, instead, would rather use language that is a misrepresentation of the murders that were committed.
Works Cited
Soldier, Layli Long. "From WHEREAS by Layli Long Soldier." Poetry Foundation, Poetry           Foundation, www.poetryfoundation.org/poetrymagazine/poems/91697/from-whereas.
United States , Congress. "Text – S.J.Res.14 – Native American Apology Resolution."Congress.gov, 6 Aug. 2009, www.congress.gov/bill/111th-congress/senate-joint-resolution/14/text.