By MaryAlice Bitts-Jackson
Two Dickinson students will travel to Eastern Europe this summer through a government program aimed at strengthening international relations through strategic language acquisition. Kevin Doyle '16 will study Azerbaijani and Chase Philpot '14 will study Russian through the U.S. Department of State's Critical Language Scholarship (CLS), which sends just 550 undergraduate and graduate students abroad each year to study one of a dozen under-represented languages spoken by American officials.
KEVIN DOYLE '16: LANGUAGE AS A CULTURAL TIE

A double-major in Russian and international studies, Doyle will make his first trip to Azerbaijan this summer, after traveling twice to Russia through the National Security Language Initiative for Youth.
"Knowing a second language is good, but I was hoping to add to that, and I chose Azerbaijani because it's a great complement to Russian," he says, explaining that the two languages have cultural ties, since Azerbaijan was once a part of the Soviet Union. "There are many Russian speakers in Azerbaijan and vice versa, and I'm interested to see what Russian influence remains there."
After completing the summer program, Doyle will spend his junior year as an exchange student in Moscow. He envisions an international career that will allow him to continue to travel and learn.
"There's nothing quite as thrilling as starting to learn a new language," says Doyle.
Chase Philpot '14: Fortuitous restlessness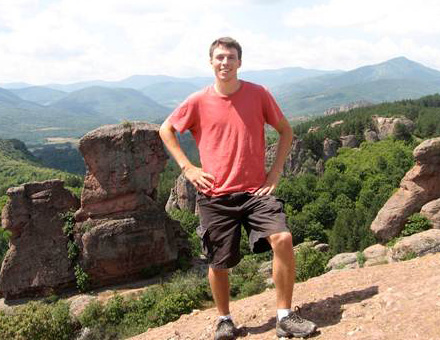 "The third time is the charm, they say," says Philpot, a double major in Russian and Middle East studies, whose passion for languages inspired him to apply for the award three times before receiving word that he would be studying Russian in Kazan next summer as a Critical Language Scholar. Soon after, he will travel to Bulgaria to teach high-school or college English in Bulgaria as a Fulbright English Teaching Assistant.
Philpot believes that his unique double-major pairing—combined with his experiences studying Islam in the Middle East and studying abroad in Russia, where he played in a national lacrosse tournament—provided a solid foundation for his continuing study of Muslims in Russia and distinguished him in this year's pool of more than 5,500 CLS applicants. He expects that his CLS studies this summer will further sharpen that edge, as he charts an international career.
Philpot adds that he's enjoyed his time on U.S. soil after returning from Russia last June, and he appreciates the chance to reconnect with family and friends. "But a good chunk of my time spent in the U.S. is spent looking for ways to explore," he says, "so whenever I'm back, it is never for long."