Monday, January 29th, 2018...5:17 amElizabeth
"Anaphora" In Music
Jump to Comments
Anaphora: A rhetorical *figure of repetition in which the same word or phrase is repeated in (and usually at the beginning of) successive lines, clauses, or sentences.
I decided to use the song "Every Breath You Take" by The Police as an example of anaphora. When I first looked at this song to see if it would be a valid example of anaphora I immediately pulled out these first two stanzas
"Every breath you take
Every move you make
Every bond you break
Every step you take
I'll be watching you
 ————————-
Every single day
Every word you say
Every game you play
Every night you stay
I'll be watching you"
 ————————
     I knew right away by the repetition of the same word, "every", in the beginning of each four lines that it was a solid example of anaphora. Therefore, if you see a word (or phrase) such as "every", for example, repeated in consecutive lines it is anaphora.
     So what? Why is the word "every" repeated consecutively in this song? What does the repetition of this word/phrase do to the piece as a whole? What is the purpose?
      When I visually looked over the lyrics to consider the song as an example of anaphora I read the piece in a very monotone voice. The effect of reading this song in a monotone voice made it harder to understand the purpose of the repeated word "every" because it tended to sound the same. I then listened to the song out loud to see if I could uncover the 'purpose'. As I was listening I paid close attention to the voice of the singer. I realized that each time he sang the lines containing the word "every" he did so in a slightly different tone. By singing each line with a slightly different tone, it brought so much more depth to the piece and made it sound like "every" had a completely different meaning each time. Ultimately, the way you read something or how you say it can give a word/phrase a negative or positive connotation and change your perspective on the piece.
     When looking at "Every Breath You Take" with a lens of anaphora, I realized the word "every" has multiple layers, or ways to approach it, which I originally did not put in to perspective. When you read or listen to a piece of art out loud and use different tones it helps to make sense of the piece and uncover meanings you might not have seen previously.
      On a side note, remember in class when we read "Poetry (1967)" by Marianne Moore and we each read a line in a slightly different tone? Well, in doing so we were able to realize the many different layers, both implicit and explicit, the poem had to offer.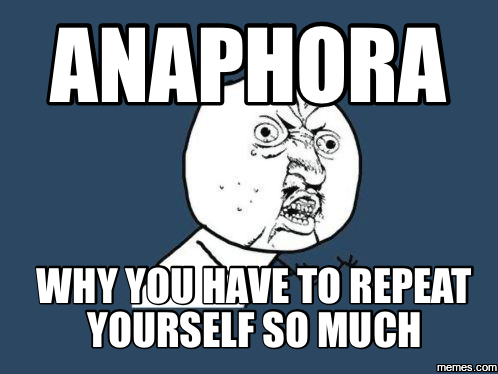 Lyrics cited:
https://www.google.com/search?q=i%27ll+be+watching+you+lyrics&oq=ill+be+watching+you&aqs=chrome.2.69i57j0l5.4557j0j7&sourceid=chrome&ie=UTF-8
Image cited:
http://images.memes.com/meme/1270974