What could possibly be easier than writing about yourself? What could be more natural, more relatable, more fascinating? In his short story, "Love and Honor and Pity and Pride and Compassion and Sacrifice," Nam Le plays with the expectation of ethnic literature as easy, entertaining writing.
When the story's main character, Nam, struggles with writer's block, he reflects on what others have told him about the genre of "ethnic literature." Nam reflects on the words of a friend to him: "How can you have writer's block? Just write about Vietnam" (Le 8). This 
suggestion brings up the outsider expectations of ethnic literature as easy to write, as something natural, something inherent. Adding to this assumption of ethnic literature as an easy genre, Nam also remembers what a writing instructor told him once, that "Ethnic literature's hot. And important too" (Le 9). The reflection of ethnic literature as "hot" suggests the genre's easy popularity.
So what makes ethnic literature so easy? What allows it to sit on the shelf as a "hot" genre for an American audience? In part, because it simply does not challenge American ideas of the Vietnam War. It does not assign fault or blame for trauma with America's involvement in the war; it exists to be unobtrusive to its American readers.
In lê thi diem thúy's novel The Gangster We Are All Looking For, even as she discusses the trauma which shaped her entire life, the events affecting this trauma are her brother's death and her separation from her mother. Notably, she never discusses a source of blame for these events, although if causes for either event were to be identified, then the ocean and the chaos of war would be these direct sources. Similarly, Ocean Vuong's "Aubade with Burning City," while the poem details the traumatic event of the evacuation from Saigon, the poem does not assign a sense of blame that alienates an American audience. Vuong writes "The radio saying run run run" (Vuong). Vuong's poem highlights American assistance in the evacuation of Saigon, situating America in the light. Even as lê and Vuong's works discuss wartime trauma, this trauma never challenges the United States, and therefore is able to exist unchallenged as a piece of genre writing.
However, in his short story, Le refuses to leave America unchallenged. Perhaps due to his residence in Australia, Le directly discusses American actions as the root of trauma in the Vietnam War. In excruciating detail, he discusses the My Lai massacre that his father survived, stating "People were now shouting, 'No VC no VC,' but the Americans just frowned and spat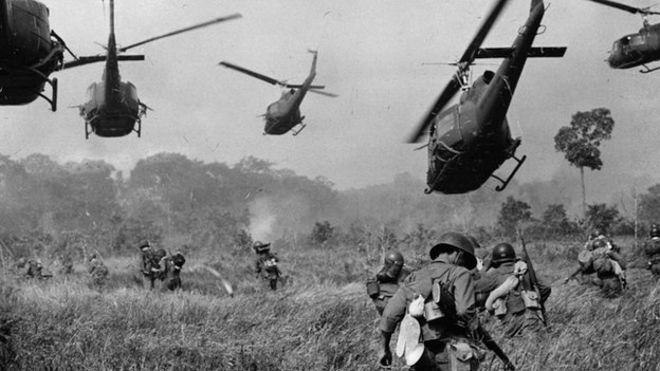 and laughed" (Le 16). Le paints Americans as cruel and impassive as they commit inhumane actions, murdering civilians, raping women, and committing mass slaughter. This scene directly challenges American involvement in the war, and in doing so, challenges ethnic literature's convention of being unabrasive to an American audience.
Despite being seen as an easy genre to add writing to, Le digs deep into the meaning of "ethnic literature." In discussing such a difficult memory and assigning a sense of blame in it, Le directly combats the idea that ethnic literature is easy and entertaining. He dredges up severe trauma in excruciating detail, proving the difficulty of ethnic literature's creation.