For my latest blog I will focus on the role of social media pertaining to COP27, specifically how the social media platform of tik tok is playing a role.
Regarding tik tok, it is a Chinese based short video sharing platform.
@tiktokforgood

We all have a part in protecting our planet's future and together, we can make a difference. In honor of COP27, join our #ClimateAction campaign and tell us what actions you're taking to help combat the climate crisis 🌍
As explained by tik tok:
"COP27 brings together world leaders, civil society, companies and people on the frontline of climate change all gather to commit and inspire urgent climate action. As one of the most crucial climate events in the world, we are partnering with TikTok creators to take their inspiring climate content to the next level and ensure these important conversations are front and center."
As shown in the video, the #ClimateAction movement is geared as part of a global movement. Furthermore, tiktok is also hosting a vlogging event from COP27 on November 10th. This is where famous tiktok creators "@SarahaBulkhair and @CamelNews21 will share interactive experiences from the event."
It is notable that on tiktoks website, they hyperlinked a pew research study that I found very interesting. It was titled, "How Gen Zers, Millennials react to climate change content on social media | Pew Research Center"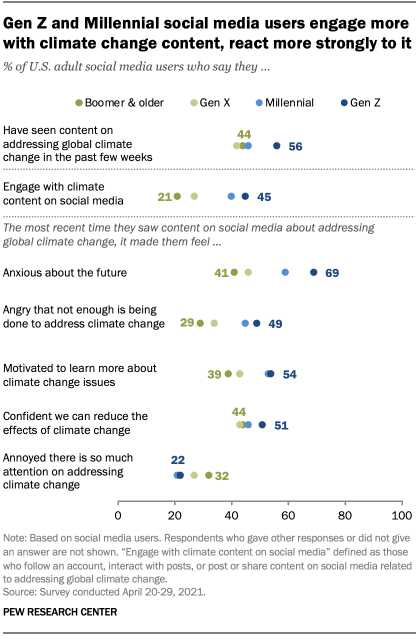 The underlying theme of both graphics depicts how Gen Z and Millennials in particular are more likely to engage with climate change-oriented content via social media platforms like tiktok.
Personally, I think it will be very interesting to see how the live streams of this event go. I think it will be fascinating to see how the coverage of the event will be received by a global audience.
Moreover, I wonder just how effective these newfound approaches to enacting impactful climate change will be viewed down the line.
Source-TikTok Launches New Climate Awareness Initiative, in Line with COP27 Summit | Social Media Today
Source-How Gen Zers, Millennials react to climate change content on social media | Pew Research Center