Home Gardening and Food Security in Carlisle: Burpee Fellowship
Do you want to start a home garden?
Have you ever considered growing your own food? Does it feel intimidating or like too much work? We are researchers from the Dickinson College Farm and would like to help you build your own home garden for free. We will walk you through the process from beginning to end and support you along the way. Everyone deserves to have access to delicious, fresh produce, and home gardening is an inexpensive and easy way to get your favorite vegetables on the table every night. Whether you are growing produce to fill nutritional gaps, learn a new skill, or give back to Mother Earth, we are here to cheer you along the way and make the process as simple as possible. With your participation, we can further our research on the relationship between home gardening and dietary and biodiversity, as well as the feasibility of home gardening as a solution for food insecurity.  
If you are interested in becoming part of our home gardening team, please contact Jenn Halpin at 
halpinj@dickinson.edu
 or 
717-713-0275. 
Food insecurity
The rate of food insecurity in the US is 11.1% It is slightly higher in Pennsylvania at 12%, but in Cumberland County where we are, its lower at 9.4%. This is useful to compare with our own results – to see the prevalence of food insecurity here in the Carlisle borough versus the greater Cumberland county area.
Overall, food insecurity rates have gone down since the 2008 recession. And in PA, the 2016-2018 average saw a 5% drop in food insecurity since the 2013-2015 average of 13%.
Home gardening history in North America
In World War 1 home gardens took the title of "war gardens" and emerged as an effort to support the war. These were federally sponsored, and with the 1914 Extension Agricultural Act, established with land-grant university programs to facilitate and conduct research on new agricultural techniques, home economics, and generally, local food production systems. By 1918, there were around 5.2 million war gardens generating over $500 million worth of produce. 
In World War 2 we saw a revival of home gardens as "victory gardens". Between 1942-43, victory gardens in the US grew from 15 million to over 20 million, and were responsible for almost half of the country's vegetable production.
These home gardening initiatives were further intensified during the Great Depression.
However, as we've shifted into more urban landscapes, as the economy strengthened our consumer culture, and as agriculture became more industrialized, we became more and more disconnected from the systems used to grow food.
How can home gardening address household food insecurity?
Increase availability and accessibility of fresh and nutritious food

Change the overall food expenditure trend
What we are doing
Spring 2020-Fall 2020
We are conducting our research in 2 block groups in Carlisle. The first component of the project involves two rounds of surveys that we conducted in the summer and fall. The second component is a "mapping project" where I took visual observations of the houses we surveyed and created a map visualizing certain trends I found. The third component combines the literature with real gardening experiences to produce a home gardening manual that we will share with interested survey respondents. The fourth is a "garden project" that where I had the chance to start and manage my own vegetable garden.
1 – Survey
Home garden production offers communities a strategic solution for addressing issues of food insecurity. With sparse documentation on the effectiveness of home gardens as tools for improving community food systems in the U.S., especially among underrepresented populations, this project aims to continue to build upon data collected in 2018 to better understand the connection between food (in)security and home gardens within key areas in Carlisle, Pennsylvania. As part of her master's thesis, Jenn Halpin, Director of the Dickinson College Farm developed and implemented a survey structured to better understand attitudes toward home gardening within neighborhoods comprised of households earning $36K or less per year. Initial data was collected from 42 out of 149 households surveyed in 2018, capturing information on perceived barriers, as well as opportunities for home garden production within Carlisle communities. However, in order to better understand and develop appropriate tactics that will aid interested households with cultivating their own home garden as a strategy for minimizing food insecurity, more baseline data is needed. Envisioned as a long-term "town and gown" initiative anchored in the College Farm Program, results from this project will serve as baseline data from which to track how gardens address food insecurity issues within the local community, in addition to supporting student research interests and civic engagement.
In January 2020, we started revising the survey content and language from 2018, including adding more survey questions that targeted things like household dietary diversity, and translating the survey from English to Spanish and Arabic. As a result of COVID-19, our research was significantly modified. During the month of March, we completed survey revisions but we switched to the remote phase in March, we were finishing up language revisions, but were faced with a new challenge of how to conduct our survey. After various rounds of literature and government census model research, we decided on a combination of mail and online survey. This multi-platform approach was chosen for its rendering of optimal response rates and accessibility to all survey participants. This was coupled with a multi-contact approach – the survey would be done in three stages. The first stage would include postcards alerting randomly selected households that they are being invited to participate in a home gardening survey. Stage two of this approach was to mail the actual surveys to selected households. This was followed by a reminder postcard in stage three. With the help of Dickinson College students and faculty, the survey was translated into Arabic and Spanish. To further participation in our survey, we included a question to snowball, and incentives for Farmer's on the Square coupons.
The surveys were first sent our in June 2020. Of the 237 home addresses in the 2 selected block groups, we randomly selected 150 home addresses. Over the 8-week summer research period, 76.9% of respondents reported that they were engaged in some form of home gardening. 15.4% of respondents reported some level of household food insecurity. Most respondents report being involved in some level of home gardening and do not self-identify as being food insecure. Among those involved in gardening, the most common crops grown were tomatoes, peppers, beans, and herbs. Most gardeners express a medium to high level of interest to expanding their current garden, and the most common barriers to expanding gardens was space restrictions and rented property.
Of the 150 surveys, 26 were returned, stamped "vacant" or "incomplete address." We had a high non-response rate of 66%.
In October, we sent out a second round of surveys to a list of 66 home addresses secured with the help of Project SHARE.
It's worth noting that we had initially planned for door-to-door surveys. This survey platform would have given us the opportunity to engage in real conversations with our respondents. We acknowledge that the low survey response rate is likely a result of using a different survey platform, as well as extenuating circumstances caused by the COVID-19 pandemic.  
2 – Mapping Project
The goal of the mapping project was to provide supplemental information and spatial representation for the surveys. The main outcome of this project was a visual overview of barriers and opportunities existent in our selected block groups. To gather this information, I did a physical walk-through of the 237 home addresses in the selected block groups. During my walks, I took note of potential barriers or opportunities to home gardening. Examples of my observations included the presence or lack of yard space, porch space, sun, and shade. I also took note of residential "Bright spots" – homes that showed high levels of gardening – in the area. I found a total of 23 Bright spots.
I used GoogleMaps, PolicyMap, and Adobe Photoshop to create the final product – a multilayered map of the selected block groups. Exact Bright spot locations were not reflected on this visual to ensure that physical addresses remain anonymous. I used the Bright spots to illustrate areas where a high level of home gardening has proven possible. In the final visual, I've identified Bright spots with yellow dots on one layer. On another layer, I've identified thematic barriers with grey strips.
A second outcome of this project was a new round of surveys sent only to the brightspots. This was taken as an opportunity to establish connections with residents in the block groups who have clearly shown a degree of investment in home gardening. I created this second survey – with a series of more open-ended questions this time – on Microsoft Forms. I printed out postcards inviting these residents to speak with us, either through phone or through the online form, personalized them with paint and pen drawings, and hand-delivered them to each brightspot address.
3 – Home Gardening Manual
As a follow-up to the surveys, we are creating a Home Gardening Manual to help interested Carlisle residents start or expand home. I spent a lot of time researching using books, online literature, and gardening websites to create the manual. I also contacted local organisations like the Carlisle Tool Library and the Carlisle Compost Facility to confirm availability of free or affordable gardening resources within the borough. This part of the research project also gave me the opportunity to explore my passion for drawing and illustrating. All illustrations in the manual were drawn and edited by myself.
Currently, we have four chapters in the Home Gardening Manual. The chapters include information on tools, equipment, and methods for starting a garden at three different costs. Additional chapters cover information on pests and disease as well as sample garden scenarios. This last section also includes estimated calories available from the crops in our scenarios.
Our target date for completion is early 2021 – please stay tuned!
4 – Garden Project
In tandem with the Home Gardening Manual, I have also started managing my own "home garden" behind Kaufman Hall. This part of the research consisted of two objectives; one, to simulate a novice person starting their own vegetable garden, and two, to supplement information and incorporate informed steps and recommendations in the Home Gardening Manual.
I started this project in the first week of July. I was given four 4' by 8' raised beds where I applied the various methods of soil prep, biointensive gardening, watering, and pest and disease controls that I'd been reading and discussing with Jenn. Examples include the horizontal spacing I applied to transplanting, hot-pepper garlic sprays I used to deal with caterpillars and flea beetles, and deep watering stakes I put in to encourage deep root growth.
The late Summer/early Fall brought about lots of produce. It was almost overwhelming to keep up with the harvesting, data collecting, and consuming of these foods by myself. As a college student living on-campus with a meal plan, it was too much produce to supplement what I was already getting from our dining hall. However, the space I was working with would be just over enough to support a single person, and would definitely be enough to sustain a family.
Summer-Fall Harvest Data
| | | |
| --- | --- | --- |
|   | Crop | Amount harvested (lbs) |
| 1 | Beets | 24.25 |
| 2 | Black radish | 17.1 |
| 3 | Broccoli | 4.11 |
| 4 | Brussels sprouts | 1.36 |
| 5 | Carrots | 57 |
| 6 | Chinese cabbage | 13.17 |
| 7 | Cilantro | 2.2 |
| 8 | Cucumber | 16.17 |
| 9 | Daikon radish | 34.45 |
| 10 | Kale | 7.56 |
| 11 | Lettuce | 220 |
| 12 | Noodle beans | 8.75 *remainder dried |
| 13 | Purple top turnip | 15.5 |
| 14 | Salad mix | 5 |
| 15 | Snap peas | 1.7 |
| 16 | Watermelon radish | 1.07 |
Spring 2021
1 – Manual – continued
The manual is finally done (link below!)
We'd like to thank Asuncion Arnedo and Mohammad Abu Shuleh who assisted with translations of the surveys with Jenn. We'd also like to thank Krista Hanley who assisted with all the designing and printing elements. 
2 – Garden Project – continued
The Kaufman "home garden" is seeing its second year!  
The objectives of the garden are same like last year. It will continue to simulate a novice person planning and designing their vegetable garden – this time for a second year. The garden will also continue to collect data on yields and to use for experimental practices (watering, container gardening, etc.). Additionally, the garden will be used to supplement and demonstrate gardening information and recommendations for our Carlisle home gardeners.  
This time, we are using all 5 beds in the garden, plus we have the opportunity to start our own seedlings for transplant. We started by brainstorming a list of crops that we are both interested in growing and eating, then started sketching plans while considering individual planting dates, maturation times, companion planting, and crop rotation.  
We started all our seedlings in the Kaufman Greenhouse. We started the collard, kale, and onion seedlings on March 19th, and my tomato, hot pepper, and eggplant seedlings on April 3rd. To make this as accessible as possible, I started my seedlings in used cans, applesauce cups, and egg cartons. Everything but those in the egg cartons germinated – presumably due to its material drawing up too much moisture from the soil.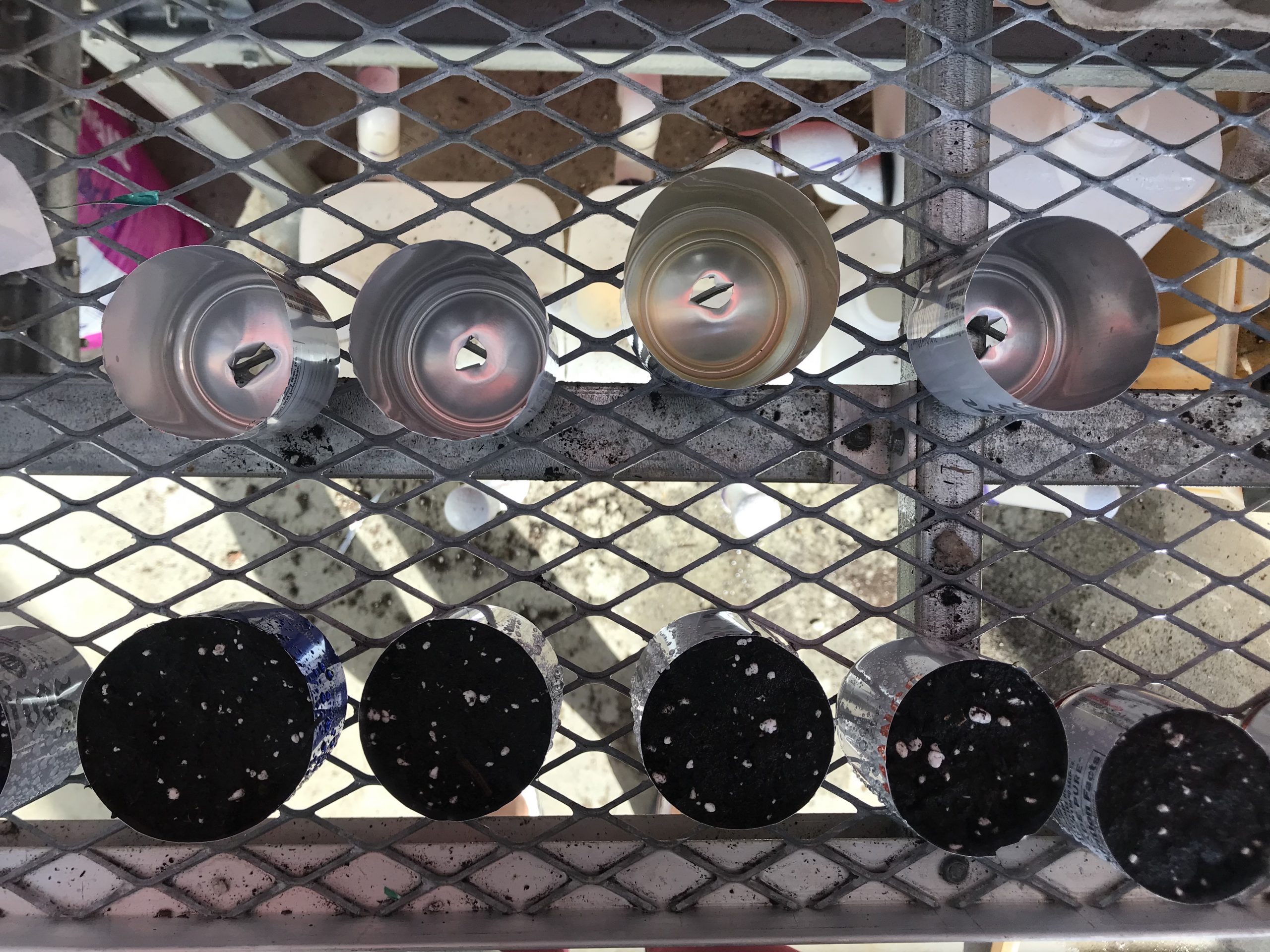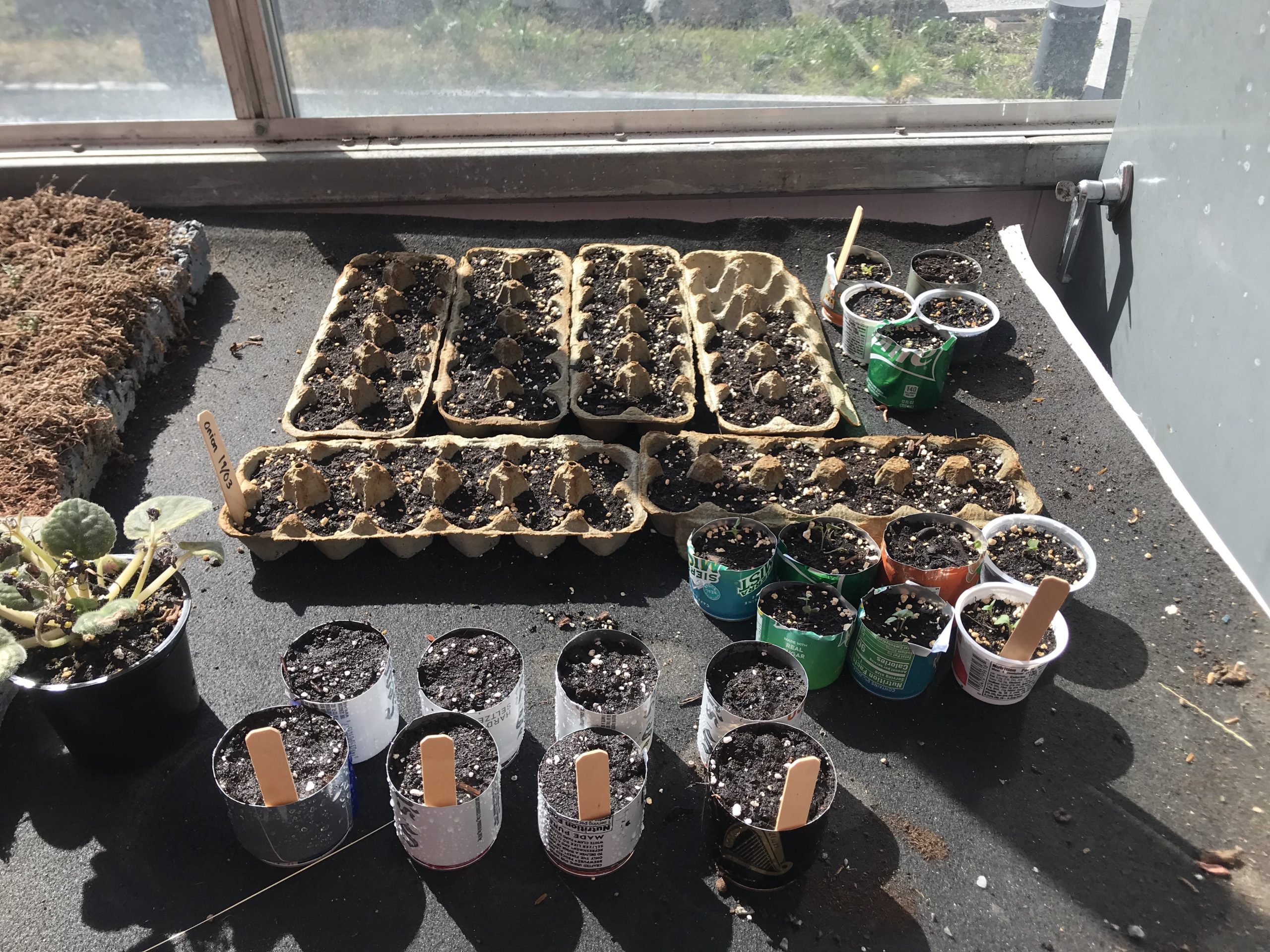 3 – Windowsill Project
The windowsill project was created with the intent 
to make home gardening accessible and easy! I utilize different items that would be easily accessible in my dorm room with hopes to eat from the harvested crop. The windowsill project also provides visual aid to some of the techniques used through the home gardening manual. 
 
The windowsill series was posted weekly on Wednesday and hosted by Dee. The series was  created with the intent to make home gardening accessible and easy! This series highlights Dee utilizing different items that could be easily accessible in a dorm room  or at the home of the viewer.Items found in the  household or dorm are the used to create produce.The windowsill project also provides visual aid to some of the techniques used through the home gardening manual. In total eight videos averaging at 3 minutes were made for the window series amongst the spring semester. They had a total of 3,381 views . This series displayed the process of sewing seat all the way up to using food scraps to create new food. 
4 – Gardening collaborations
Through the surveys, we have established connections with several borough residents whom we are calling our home gardeners! We started preliminary conversations discussing their past gardening experiences, available garden space, their desired vegetables, concerns with time and tool availability, and opportunities to engage their families in the gardening practice.  
From that, Audree and Dee paired up with one home gardener each and designed several garden and crop plans for their respective home gardener.  
In Audree's plan, she incorporated a "dye garden" and a "pizza garden" for her home gardener, supplemented with a lesson plan for each, in the hopes to get their children involved and excited in vegetable production and processing. Additionally, in response to her home gardener's interest in herbalism, Audree designed an herb garden, accompanied by a fact sheet outlining benefits and recipes using the herbs in her herb garden. 
Dee received Bethany's plan there was little room in ground that received sun so we had to make use of the front, back and wall of the yard. Dee input her crops into her space based on the space – noting that she wanted all of her garden above ground within containers.Bethany and Dee used recycling bins, shoe storage containers , wooden palettes , and an aluminum pan with paper cups for germination.There was one day where Dee assembled the garden with Jenn and Bethany to start the rest of the crops that have not been germinated. We left Bethany with her palettes , trellising poles, and germinated seeds . She also had a personalized garden plan for seeding the crops that were not quite ready and has been waiting on the crops to harden off for transplanting outdoors. 
Each gardener also completed a biodiversity survey of their yard. the goals of the HG project is to track changes in household dietary diversity and quantities consumed but also to track changes in yard-scale biodiversity.  
Future Work
Two Burpee Fellows this summer, Dee Findlay will continue her position and be joined by Maeve Thistel (class of 2021 (Anthro, Italian and Food Studies).
Goal for summer 2021 is to have 6 borough gardeners with whom to work this year
Continue surveys and data collection efforts plus recruit more borough residents for 2022
Develop and offer live garden demonstrations with participating gardeners for neighbors to learn
Connect with and interview community bright spots for perspective and to help get others interested in HG work