SEED: Sustainable Earth Education
Did you know that the Dickinson College Farm has a hands on, experiential, youth education program called Sustainable Earth Education or SEED?



 
The Dickinson College Farm is a 60-acre USDA Certified Organic living laboratory. Located just six miles from campus, the farm has more than 15 acres of vegetable production ground and 30 acres of animal pasture. The farm supports the academic interests of students and faculty, promotes renewable energy through a variety of innovative applications and builds a greater awareness about how food is generated using techniques that help sustain natural ecosystems.

Through SEED, we aim to provide creative learning experiences to children's groups in the community. In the past, we have worked with local area schools, summer camps, Girl and Boy Scout troops as well as home school groups. We offer classes on a variety of topics ranging from compost, soil quality and plant life cycles to biodiversity, livestock management and beyond. Related topics such as nature, art and cooking are also available.
2021-2022 SEED Student Educator: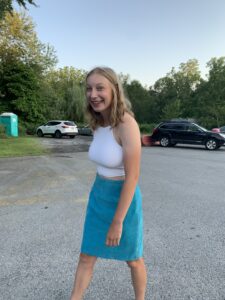 Hi! My name is Julie Korgen and I am this year's SEED Educator. I worked at the Dickinson College Farm in summer 2019 and appreciated the resilience and agency my experience gave me. I am an Educational Studies major, so I have always had my eye on the SEED Educator position. I am so grateful for this opportunity to combine my interests in organic farming, making lesson plans, and working with kids. Outside of SEED, I am a double minor in French and Art History, the president of Dickinson's chapter of the KDP Education Honor Society, a member of the Junkyard Turkeys Ultimate Frisbee team, and a member of Delta Nu sorority. 
Classes are taught by the SEED Student Educator and student volunteers!
Parents and group leaders are welcome to participate, observe, take a self-guided tour of the farm or take a short drive into beautiful Boiling Springs. At the end of the program, children are invited to show parents what they've learned around the farm. 
To set up a class or ask any questions, please email farmcoordinator@dickinson.edu.
For planning purposes, interested groups are requested to sign up for a class at least two months before their desired date on this questionnaire and notify farmcoordinator@dickinson.edu once you've done so.
For pictures of our farm and previous events, follow Sustainable Earth Education  and Dickinson College Farm on Facebook and Instagram. 
Past Class Topics
Think your group could benefit from participating in a SEED class but not sure what the best topic would be? Take a look at some of the classes that we have offered in the past: 
 Red Wigglers and Food Waste: Vermicompost
Suggested ages 9-12
Explore the sometimes slimy but always fun world of worms! We will investigate the insides of a worm, and use a microscope to check out what is in worm waste, also known as "castings." Don't miss this great opportunity to visit the farm's worm shack, learn all about "vermicompost" and understand why red wiggling worms really are wonderful!
 The Science of Farming
Suggested Ages 9-12
Have you ever wondered what a farm would look like through the lens of a microscope? Join us on the farm to go on a "micro-safari." We will collect specimens like veggies and insects to view under the microscope, prepare our own slides, and see the world in a new way!
The Five Senses of Farming

Suggested ages 9-12
Can you name the five senses? Come out to the farm to discover some of the best sights, sounds, smells, tastes, and touches that the landscape has to offer! We could explore the herb garden with our noses, go on a scavenger hunt to search for hard to find veggies, touch wool, and taste some special farm treats.
 

It's a bird! It's a plane! It's Super Sun!



Suggested ages 5-8
Energy comes in many forms…you use energy everyday and so does our farm! Feel the power of the sun while learning all about the farm's solar panels. Plus discover the difference between the farm's tractors, dive into our warm greenhouses, and try a sun-baked snack from our solar oven! 
Biogas and Byproducts: Fuel for thought



Suggested ages 9-12
Come learn all about the farm's big burrito-shaped biogas digester. Take a trip to the compost heap to collect some "fuel" and then watch as waste is turned into the farm's famous "poopcorn!" Also check out the worm shack and learn how the farm replenishes the soil by re-using and recycling.
Winter Wonders at the Farm



Suggested Ages 9-12
Celebrate Winter! Explore the farm during its snowy hibernation and learn how to make a winter decoration with farm-grown and collected materials, then warm up inside a yurt with a toasty wood stove.
The Art of the Farm

Suggested ages 5-9
Students will get the opportunity to explore the various parts of the Dickinson Farm through the lens of an artist! Their materials will range from paints, to chicken feathers, and even vegetables!
Life of a Farmer

Suggested ages 5-7
Ever wonder what a farmer does? Students will explore the farm through its daily activities. They will get to talk to one of our student workers about the different jobs they do through interactive activities such as learning about compost, taking care of farm animals, and the growing cycle of plants!
Creatures of the Farm

Suggested ages 9-12
The Dickinson College Farm has cows, chickens, and sheep! Spend time outside learning about what each animal eats, where each animal lives, as well as activities using sheep wool and egg shells. 
It All Starts With a Seed!
Suggested ages 5-8
Discover how recycling our food waste and relying on worms help our plants to grow big
and strong. Activities could include creating our own compost piles, examining dirt, and playing with worms!
Let's Ruminate About Ruminants!
 Suggested Ages 8-12
Do you know what a ruminant is?! Come take a walk around the farm with us to learn all
about cows and sheep. Participants could discover how they process their food, make crafts out of
sheep's wool and make their own butter!
Lively Ladybugs and Gnawing Grasshoppers
 Suggested ages 6-9
Check out the farm's insect collection and discover which insects are pests and which are predators! We will make our own insect books and go on a scavenger hunt around the farm. Try some delicious "bug juice" for a snack!
Exploring Apples from the Soil Up



Suggested Ages 5 – 7
Children will learn about fall's most colorful fruit by sampling apple varieties like Fuji and Honey Crisp and making art with apples. This workshop introduces children to the reasons that apples were important to Johnny Appleseed – and how rich soil helps them to grow.
Discovering the Origins of the Thanksgiving Feast



Suggested Ages 7 – 10
Activities such as painting gourds, making a leaf rubbing and creating a three-sisters garden using squash, corn and beans will be used to introduce children to Native American agricultural traditions and what happens to crops when the cold weather arrives.
Decorate Gourds
With all the gourds lying around why not decorate them? We will paint gourds, so bring your creativity!
Celebrate the Three Sisters
Make your very own Three Sisters Garden in any design or pattern you want by integrating squash, corn, and beans.
Leaf Preservation
Keep a piece of fall with you wherever you go by making a leaf rubbing. We will have fun while learning the different parts of the leaf.
Nature Walk & Making Art From Nature's Resources



Suggested Ages 5 – 7
Children will make seasonal arts and crafts using nature gifts from the farm, sing winter songs to the farm before it goes into its winter-long hibernation and sample apple cider.
Sweet Trees and Bees:

Suggested ages 9-12
Discover how the special sap that maple trees produce is turned into maple syrup and learn how bees make their honey. 
The Incredible Edible (organic) Egg:
Suggested ages 5-9

Collect fresh-laid eggs from the farm's pasture-raised hens. We will see and taste the differences between our organic eggs and conventional eggs.
May Day Celebration:
Suggested ages 5-12

Celebrate spring! We will plant new crops, make crafts out of recycled materials, and recreate a Maypole tradition.
***SEED was virtual Spring 2021. We created videos about soil and home gardening as well as a virtual cooking class for kids. You can find the videos that will be uploaded over the next couple months on the Dickinson College Farm Youtube.  Printable activity pages to go along with the videos can be found in the description of the video. You can watch the first one here:
The second video about biogas at the farm can be watched here:
The third video about livestock at the farm can be watched here: 
Our fourth video about soil and compost at the College Farm can be watched here: 
Our fifth video about here: