Elementary school taught me the five categories of race. Middle School introduced me to memes and taught me how to joke "That's Racist!" to my friends. High School taught me that institutional power is an essential part of racism. And college is teaching me how to unpack the very notion of race as a "social construct," thanks to writers such as Ijeoma Oluo and Chenjerai Kumanyika. These writers explore the confusing thing we call race.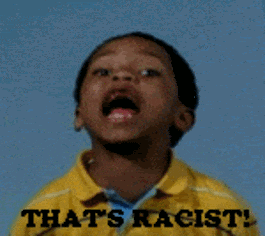 Race is no easy topic of discussion. In our current society, many wonder why "social justice warriors" make such a fuss about it. I mean, why do we keep talking about something that is fake right?
Ijeoma Oluo's book So You Want to Talk About Race, published in 2018, dives deeper into the idea of race as a social construct. Through her own narrative, Oluo says, "out of a social construct created to brutalize and oppress, we've managed to create a lot of beauty." (21) Race is a system of power that imposes pain, but it also informs Oluo's identity as a Black woman. And so the question is not whether we can simply be color blind and all get along in the future, but whether we can see race as an architect of both our society at large and personal lives too.
Chenjerai Kumanyika assistant professor of Journalism and Media Studies at Rutgers, and contributor of the "Seeing White" podcast, also builds upon the idea of the systematic power of racism. He also addresses how the word appears in our vernacular. Kumanyika says, "It's not about just attitudes, like your distant cousin who's a bigot. Right? But we also do use the term racist for that too" (Kumanyika). Throughout the podcast, Kumanyika expresses his confusion in having to grapple with an understanding of racism at the macro level in our institutions, and micro level in interactions between people. Hence, it is easy to throw the word "racist" around and create tension and confusion but no progress.
In their work, Both Oluo and Kumanyika acknowledge that race is systematic, ingrained into the institutions that organize our society. But they also paint a clearer picture into what we as individuals make of race outside of the system, and how race can simultaneously bridge and separate people.
While race is not scientific fact, it is still real socially, and very much "alive" (Oluo 12).  After 13 years of schooling, I now understand how race is a social construct, but what happens next? What conversations are there to be had after acknowledging the complex and confusing versatility of race?
Works Cited:
Oluo, Ijeoma. So You Want to Talk About Race. New York, Hachette Book Group, 2018
Kumanyika, Chenjerai. How Race Was Made (Seeing White Part 2). Scene On Radio, Mar. 1, 2017. http://www.sceneonradio.org/episode-32-how-race-was-made-seeing-white-part-2/
B1