On March 22nd, ALLARM met virtually with Lycoming-Clinton Stream Team for a training covering water sampling and monitoring procedures. The workshop was led by Director Julie Vastine, Community Science Specialist Stephanie Letourneau and student watershed coordinators Cat Dickman 22', Charlotte Kratovil-Lavelle '24, Prerana Patil '24 and Nhu Truong '22.
Prerana: The Lycoming-Clinton Stream Team training was my second training event after my work with Pennsylvania Lake Erie Watershed Association (PLEWA) last semester. Going through a training this second time brought a lot of new and fulfilling experiences. This time, I tackled the instructions for nitrate-nitrogen testing and acted out the at-stream and water temperature sections of the manual. I was nervous to speak on the nitrate-nitrogen section because it is an involved and sometimes tricky portion of the training. I prepared intensively and was nervous until the training began, but during the workshop, I watched my colleagues and took note of their composure and how well they were doing and centered myself. It was also so energizing and exciting to see the volunteers who were clearly so invested and so ready to learn. Overall, I had a wonderful experience at the Lycoming-Clinton Stream Team training and cannot wait to do more volunteer trainings and see the Lycoming-Clinton volunteers again!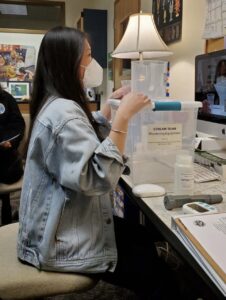 Nhu led the pH testing procedure as well as acted out how to sample for
conductivity and how to properly wash equipment after testing.
Nhu: To me, the Lycoming-Clinton Stream Team training was an exciting experience. I finally got to observe and take part in the full process of planning, training, and collaborating with volunteers at ALLARM. Since I started working at ALLARM, I have been deeply involved in the lab where I conduct quality control on water samples for volunteers. However, this semester, I also got to help prepare monitoring kits and deliver training at workshops. Through this process, I have learned so many new things, from using power tools to create sampling poles, to facilitating a meeting and communicating scientific information effectively to the public. In addition to that, I am impressed with the teamwork of ALLARMies; during the training, we helped each other in the background, handing off needed equipment or giving the individual acting an extra hand. It did not only make the training run more smoothly, but it also created fun moments that relieved all my nervousness for speaking in front of people. The success of the workshop is also attributed to our great volunteers. I really enjoyed meeting them, and I was happy to see them readily engaging with every test despite it being their first time using the kit. Their positive feedback at the end of the session made me feel fulfilled and shows me the value of the work that I am doing. Although this could be my last time taking part in a Stream Team monitoring workshop before I graduate, this is one of the best experiences that I've had at ALLARM to help me connect with and support communities where I live, even temporarily. I am excited for the current and upcoming student watershed coordinators to participate in future Stream Team workshops!