On Tuesday, June 28, ALLARM's summer watershed coordinators led an educational nature walk for the CONNECT youth summer camp based in Carlisle. This event was led by Charlotte Kratovil-Lavelle ('24), Michelle Cao ('25), Nick Bradbury ('23), Michelle Hom ('24), and myself. The two-hour nature walk took place along the local LeTort Spring Run, with stops planned along the way to teach about water quality, and go through activities with the summer camp participants. Some of the activities we engaged the teenagers in included learning how to identify common submerged aquatic vegetation (SAVs) through a scavenger hunt, and watching a demonstration on how to differentiate shale and limestone by their physical and chemical properties. We also created matching games and talked about potential solutions to common types of water pollution. Through the activities, the CONNECT campers were able to interactively learn about the influences to and important features of stream health.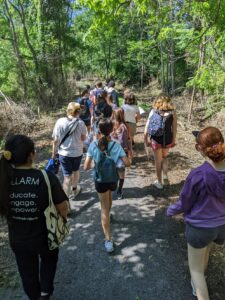 Unlike my time with ALLARM last summer, this year is unique in that the ALLARM summer experience is split into two shifts of student watershed coordinators. Fortunately, this event happened during the only week where the ALLARMies from the first and second halves of the summer overlapped – so this event took place the first week for three of us, and the last for the other two! Michelle Cao and Charlotte Kratovil-Lavelle had worked on the lesson plans and activities for the summer camp experience in the weeks leading up to the event. Michelle shared that she was excited to be able to plan a lesson tailored to the summer camp participants and appreciated the experience of lesson planning with Charlotte and the ALLARM senior staff. After the event, Charlotte said that "it was incredibly rewarding to not only see things go so smoothly, but to see the level of enthusiasm and engagement that the kids demonstrated too."
The Letort nature walk happened on my second day of my ALLARM summer experience. I was able to spend the day before reviewing plans with the other watershed coordinators and practicing for the activities that I was leading. During the event, I really appreciated how interested the kids were in every activity we did during our nature walk. We were each able to lead different activities and discussions and we also got to know the kids during smaller group games and conversations. This was a great way to start my summer at ALLARM and I hope that the kids had as fun of a day as us ALLARMies did!
Credit for cover photo and first image: Meta Bowman