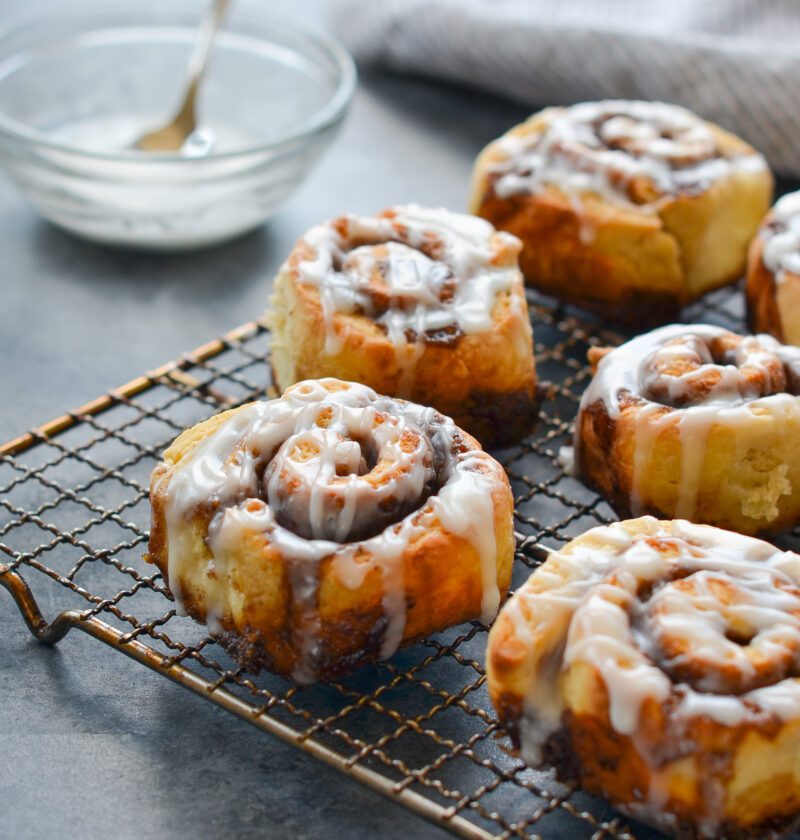 Yields:

12 Servings
Difficulty:

Medium
Prep Time:

1 Hr 50 Mins
Cook Time:

25 Mins
Total Time:

2 Hr 15 Mins
By Mathilde Verbitsky and Laman Huseynova
Click here to see Recipe at a Glance
To see the science behind the ingredients click here.
To see the adjustment to the recipe click here.
This recipe for cinnamon rolls is a classic. Even though this recipe is classic and simple, it does, however, have many chemical reactions that occur throughout the baking process. The original recipe used granulated sugar when making the rolls and the filling, but this is not the only option when it comes to sugar. Click here to see the adjustments made to the recipe.
Whisk flour, sugar, salt, and yeast in a large bowl.

Combine milk, water, and butter together in a bowl. Heat until butter in melted. Pour into dry ingredients, add the egg, and stir until it forms a dough.

Knead the dough for 3 minutes. Place in a greased bowl cover and let rest for 10 minutes.

Roll dough out in a rectangular and spread softened butter on top. Sprinkle cinnamon sugar mix on top of the dough, roll the dough tightly and cut into 10-12 rolls. Arrange in a round pan

Cover the rolls with foil and allow to rise in a warm environment for 60-90 minutes.

Preheat oven for 375°F. Bake for 25 minutes.

For icing, whisk the confectioner sugar, vanilla extract, and coffee/milk together and spread over rolls.