For four years, I've lived in a sleepy town in Western Massachusetts named Easthampton. A lake sits squarely in the middle of the downtown, wedged between the cultural district and the town hall. An American flag flutters over the lake during all seasons and in the winter, a dock is constructed in the middle of the lake where a light up Christmas tree rests. In the past few years, town hall  put up a menorah during the winter holidays and has flown an LGBTQ+ rainbow flag. I'm from a small new England town pulled between two different demographics: a younger, freshly-out-of-college population who is pushing Easthampton to become more inclusive and an older group who have lived in Easthampton for generations, fighting to keep Easthampton in the past. Where these two groups unite is over maintaining the town's cultural ethos of small businesses and local artisans. Once empty walls are now covered in colorful murals in a downtown full of locally owned stores that each contribute something unique to the artistic scene. Each season holds different celebrations and traditions, whether its summer music and food truck festivals, caroling in town square in the winter, or the annual fall "bear fest", where different businesses paint colorful bear statues and hide them around town.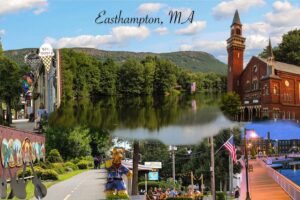 Last week, I had the privilege of talking with several students who were raised in different places than me, some of them in different nations. I spoke with one person who grew up in a small town in Pennsylvania called Bethlehem and when she described it, it sounded very similar to home. She described an annual music festival that reminded me of the ones hosted in Easthampton as well as a culture of local artisans and vendors that I'm sure would have meshed perfectly with those in my home town. It was fascinating to me that these two towns hundreds of miles apart could be so similar.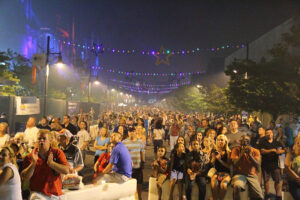 I began to observe some very noticeable differences when I spoke to a Dickinson student who spent most of his life in Bogota, Colombia. He told me that in his home city, there are no defined seasons like there are where I'm from. Instead, they have wet seasons and dry seasons that don't correspond to the seasons I grew up with. While this might seem inconsequential, the pattern of the seasons holds a lot of weight in my town. As I mentioned before, there are annual events and traditions that revolve around the weather. Easthampton has an apple orchard that generates a large amount of revenue each fall as well a semi-famous ice cream shop that draws in business for the town each summer. New England is renowned for its fall foliage and gains a lot of annual tourist money from it. In Bogota, most of the climate variation comes from what elevation you live at, since the city is built right next to a mountain range. We also talked about differences and similarities in our education systems. In Colombia, learning English is something everyone does in school, ensuring bilingualism. In the Massachusetts education system, other languages are taught, but most students don't even reach proficiency much less fluency.
Another student that I spoke with was originally from Pakistan but moved with her family to the United Arab Emirates when she was 11. She was from Kashmir, Pakistan, which has been the site of an ongoing conflict between Pakistan and India. On one side of Kashmir, she described a mountainous area and on the other side, agricultural fields. She recounted struggling with the language switch when she moved to the UAE but eventually mastered English, which is primarily what she speaks there. She explained that this was because the UAE is mainly a country of immigrants and that people originally from the United Arab Emirates are actually minorities in the country. English is the language they use to communicate with each other. As a result, the place in Sharjah where she currently lives is much more culturally diverse than the small, sheltered town that I'm from. Easthampton is primarily white and even though there are many parts of the United States that are culturally and ethnically diverse, Easthampton unfortunately is not one of them.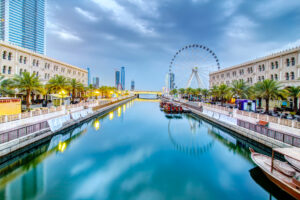 It was illuminating learning firsthand the ways in which the place I grew up is so different from the experiences of others. I had no illusion my experience would be similar to that of others living across the world but I wouldn't have been able to tell you concrete examples of how these differences manifest. I'm looking forward to learning more about my classmates as the semester continues!
Sources:
https://pixels.com/featured/easthampton-ma-collage-sven-kielhorn.html
https://www.cepal.org/en/about/headquarters-and-offices/eclac-bogota
https://en.wikipedia.org/wiki/Sharjah