Welcome to this blog post where I will be proposing an idea for an African American meal that you can easily reproduce.

This post will be dedicated to the creation of a meal full of dishes that brings the idea of comfort as well as elements that would sound more contemporary. The idea behind this project is that I wanted an entire meal that can be done for a Sunday dinner or special occasion that can bring the family and/or friends around the table. I wanted a meal that would include everyone so that everyone could be present at this table serving both dishes with meat and vegan ones. Regarding the techniques used, the idea was to keep it as close as tradition tells us to make it. However, there is the need to challenge this knowledge of African American dishes and add a twist to some of them to remind the comfort of childhood for example but also to give an insight of what a restaurant kind of type would serve you for dinner.

The golden rule for this dinner would be first of all to be in compliance with the historical context in which these dishes were first made. I acknowledge the history behind the dishes and try to represent the ethics of care and the recognition that those dishes need in our modern world. This blog can allow the reader to learn about the dishes' roots and their meanings in today's society. These dishes are meant to bring commensality to the table, meaning a sharing experience around this meal and allowing all generations to appreciate the moment around the table rethinking the roots but also the future of this cuisine.

I wanted this meal to have a balance between comfort food that would remind some people of their moms' cooking in their childhood and also something refined that they can be proud of having experienced and that will challenge their taste buds. The inspiration for this blog is mainly thanks to Kwame Onwuachi's book, Notes from a young black chef, which made me realize the potential that African American cuisine has to be everything that it wants. Acknowledging the problem of access to some ingredients, I tried to get around this issue by choosing quite well-known products that can be potentially easily found in your local grocery provider. This meal will provide a large variety of nutritional values and can be adapted to any type of dietary exigences: vegan, gluten-free…

In today's menu we will find:
-Cornbread
-Apple and spice cranberry sauce
-Black-eyed peas hummus
-Grilled Okra drill lemon and parsley sauce
-Buttermilk fried chicken
-Apple collar green
-Baked mac n cheese

Now let's begin the cooking part….

1. Cornbread

The Origin of African American :
In Miller's book, he explains that this dish originates from Native Americans. It was then exported to West Africa by Europeans and was only then used during the plantation era. Cornmeal was one of the main ingredients for slaves in the plantation of the South. Cornbread was prepared everywhere and in the Big Houses some variations of the "simple cornbread" were invented such as "hoe cake" (muffins like cornbread) etc…. A lot of writers refer to cornbread as an "everywhere" dish of the South.

Facts about the dish :
There is a strong debate on the original recipe and how it is supposed to be made, with which ingredients. Some would put buttermilk some not and this goes for several ingredients. There is also a debate on the style because of the difference between the southern and northern types of cornbread that would be crispier or baked or steamier etc…

Why is it included in this meal? :
This dish would bring great nutritional benefits in terms of fiber and proteins as well as vitamin C. Moreover, this dish is a great accompaniment since there are some sauces dishes.
Optional: there is the possibility of changing the flour so that this dish can become gluten-free.

Recipe:
Ingredients
2 cups yellow cornmeal
6 tablespoons all-purpose flour
3 teaspoons baking powder
1 teaspoon salt
2 eggs Beaten
1 1/2 cups buttermilk
1/4 cup unsalted melted butter Measured solid.
2 tablespoons unsalted butter For greasing the pan.
Instructions
Preheat oven to 400 degrees.
Add the cornmeal, flour, baking powder, and salt to a mixing bowl. Stir to combine the ingredients.
Add the eggs, 1/4 cup melted butter, and buttermilk. Stir to combine.
Do not over-mix the batter. Over-mixing will lead to cracks in the crust and cornbread will fall apart and crumble. Mix well enough to combine the ingredients.
Place a 10-inch cast iron skillet on medium heat. Add 2 tablespoons of butter. Allow it to melt and then grease the entire skillet including the edges.
Alternatively, you can bake the cornbread in an 8×8 baking dish (greased).
While the skillet is hot, pour the mixture into the cast iron skillet.
Remove the pan from the stove and place it in the oven to bake for 20-25 minutes or until a toothpick can be inserted and return clean.
Allow the cornbread to cool for at least 20 minutes.
Slice the cornbread into servings.

From (Blackpeoplesrecipes.com 2023).


2. Black-eyed peas hummus

The Origin for African Americans :
Black-eyed Peas history:
This crop was brought from the slave trade made to Africa to America (Bower, African American Foodways: Explorations of History and Culture 2007 p.2, 8, 169). A documentary that can illustrate this example as well as others in terms of crops being transported to the Americas would be High on the Hog on Netflix. The first episode really depicts this phenomenon.

Facts about the dish :
The idea to make hummus comes from the idea of making a dish that is currently trendy. Middle Eastern / Mediterranean dishes receive a lot of attention because of their supposed "healthiness" and colors. Therefore, I wanted to give this meal a more contemporary approach with some freshness keeping the main ingredients centered which are the black-eyed peas.

Why is it included in this meal? :
This dish can perfectly suit vegans. Indeed it is important to address this question because the Black Vegan Movement is getting larger. There was always this debate between pragmatism and choice in terms of adding meat to the diet of African Americans. Because African Americans were given only a little food during the plantation era a lot of traditional recipes think of meat as something needed because of how valuable for the body it was at that time. Therefore, the question to include meat or not in dishes in the last decades really challenges the vision of soul food.

Recipe of my own:
Ingredients:

.Toasted sesame seeds, Oil, and Salt to make the Tahini for the Hummus.
. Black-eyed peas 2 small cans
.1 big white onion
.2 garlic cloves
.A bunch of cilantro
.The juice of 1 lime
.Some olive oil

Instructions:

-Prepare the Tahini blending all the ingredients for it together. The texture is supposed to be creamy.

-Then, chop your onion.

-You can finally add every ingredient to a big blender and mix it all together until you have a thick brown creamy consistency. You can either choose to blend it totally or let some parts be slightly mixed so that you can still have a different texture.

-You can plate it with some cilantro on top as well as some olive oil to be more decorative.


3. Apple and spice cranberry sauce

The Origin for African Americans :
Even though this sauce is not typically African American, it is a famous must for Thanksgiving which is celebrated by most Americans and especially African American because of their history therefore I thought about including it as a sauce since except for gravy it is hard to find a proper African American sauce.

Facts about the dish :
This sauce is a typical Thanksgiving sauce that pairs well with white meat such as turkey and chicken.

Why is it included in this meal? :
I wanted to include a sauce that could bring this reddish color to the table. It can also add fruity flavors that would pair well with the rest of the meal.

Recipe :
Ingredients:
-Apple
-Cranberries
-Water
-Cinnamon
-Sugar
-Salt

Instructions:
-In a medium saucepan, add sugar, water, cinnamon, and salt. Bring to a boil, reduce heat, and stir occasionally until sugar is dissolved. Stir in cranberries and apples.
-Simmer until slightly thickened and the berries begin to pop about 10 minutes. Remove from heat and cool to room temperature or chill.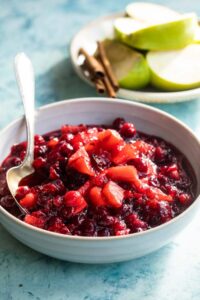 4. Grilled Okra with lemon and parsley sauce

The Origin for African Americans :
Okra is a sample of African Americans. It is an incredible thickener which is why it is used mainly for gumbos and other dishes with the idea to include a broth or some kind. In High on the Hog page 17, it is clearly mentioned that "Okra probably was first introduced into the continental United States in the early 1700s".

Why is it included in this meal? :
I wanted to change the vision that we have with okra which is to be the thickener for gumbo or jambalaya. I also allow the okra to be considered an item by itself and not an ingredient to produce something else. According to me, okra deserves its place as a side dish here by itself.

Recipe of my own:
Ingredients:
For the Sauce:
1 cup parsley
1/4 cup extra virgin olive oil
zest of 1 lemon
1/2 tbsp fresh lemon juice
3 large cloves of garlic
salt and pepper
For the grilled okra:
-1 pound fresh okra
-1/4 cup olive oil, divided
-salt and pepper to taste

Instructions:
For the sauce: just blend everything together
For the okra:
Preheat your oven to the grill function. Toss the okra with 2 tbsp olive oil, salt and pepper.
Grill the okra, turning until charred in spots and tender about 5 to 10 minutes.

5. Baked Mac and Cheese

The Origin of African Americans :
This dish was brought to the US by James Hemings training in France as Thomas Jefferson's cook. Therefore because of the poor knowledge that some people have on African American history some people still believe that Jefferson himself invented the mac and cheese. However, it is indeed Hemings that brought this dish to know to America by even adding a twist because he invented the macaroni and cheese pie.

Facts about the dish :
Depending on how you decide to call this dish you are playing a role in how it is seen by others and how you view it. Casserole, baked, mac n cheese, macaroni, and cheese are not that trivial.

Why is it included in this meal? :
I wanted to add this dish to the menu because of its formidable history where a lot of particular elements participated in its fame and that so few people know about.

Recipe :
Ingredients:
1 teaspoon kosher salt, plus more for boiling
8 oz dried pasta shells
10 oz shredded sharp cheddar cheese, divided
4 oz American cheese, cubed
2 tablespoons cornstarch
½ stick unsalted butter
1 teaspoon mustard powder
¼ teaspoon cayenne pepper
1 ½ cup whole milk
1 ½ cup heavy cream
1 large egg
2 oz shredded mozzarella cheese
2 oz shredded parmesan cheese
Instructions:
1. Preheat the oven to 350F (180C).
2. Bring a large pot of well-salted water to a boil. Add the pasta and cook for 2 minutes less than recommended on the package (you want the pasta to have a slight bite; it will finish cooking while it bakes), then drain.
3. In a large bowl, combine 8 ounces of shredded cheddar cheese with the American cheese and cornstarch. Use your fingers to gently toss until all of the cheese is coated.
4. Melt the butter in a large pot over medium heat. As the butter begins to sizzle, add the mustard
powder and cayenne and stir to combine. Toast the spices until the butter turns golden brown, about 1 minute.
5. Slowly whisk in the milk and heavy cream. Continue whisking until the milk begins to simmer with small bubbles rapidly rising to the surface for about 3 minutes.
6. Whisk the egg in a small bowl, then temper it by slowly adding a few spoonfuls of the simmering milk mixture while continuing to whisk until incorporated.
7. Slowly drizzle the tempered egg back into the milk mixture, whisking vigorously until the egg is fully incorporated.
8. Remove the pot from the heat and add the cheddar cheese mixture a small handful at a time, whisking between each addition to make sure the cheese melts evenly (mix quickly enough that the mixture does not cool too rapidly, but slowly enough that the emulsion does not break)
9. Add the cooked pasta to the pot and gently fold to coat with the sauce, then season with 1 teaspoon of salt. Pour the pasta and sauce into an 8-inch square baking dish with 2-inch-high sides (at this point, the pasta can be wrapped and refrigerated for up to 3 days).
10. In a medium bowl, combine the remaining 2 ounces of cheddar, mozzarella, and Parmesan cheese. Sprinkle on top of the pasta,
11. Bake the mac and cheese until the cheese is melted and beginning to bubble around the edges, about 20 minutes. Turn the broiler on high and broil the mac and cheese until the cheese begins to brown all over, about 5 minutes. Let the mac and cheese sit for 5 minutes for the sauce set and cool slightly
12 Serve warm

Recipe from (Tasty – food videos and recipes. tasty. co. (n.d.). https://tasty.co/)


6. Apple collard greens

The Origin for African Americans :
Collard greens are a classic of African American cuisine. However, a huge dilemma appears regarding the issue of "motherless greens". Indeed, as Miller explains in his book Soul Food, collards in the modern era are really touched by the fact of adding pork or letting it vegan. The pork was such a rare granted meat for African American during the plantation era that it is hard for some people to imagine someone actually on purpose taking out this meat that in modern times is way less complicated to add to the dish.

Facts about the dish :
Collard greens come from the same family as cabbage, kale, etc… Collards are the most used for this type of dish, however, it is not rare to see the same cooking technique with other greens. They are also part of the African American sample.

Why is it included in this meal? :
For this recipe, I wanted something that is in contradiction with the idea that collard greens need to be eaten with meat. For me, collard greens can be appreciated without debate around pragmatism. The little twist which is to add apples is to trick the mind into giving the aspect of non "motherless" greens.

Recipe of my own :
Ingredients:
2 tablespoons butter
2 apples
1 onion, sliced (about 1 cup)
1 tablespoon minced fresh garlic
16 cups stemmed collard or mustard greens
1 14 ounces of vegetable broth
crushed red pepper
Salt
Black pepper
Instructions:
In a deep 12-inch skillet, melt butter over medium heat. Add apples, stirring to coat. Spread evenly; cook for 7 minutes or until browned and tender, turning once. Remove from skillet and set aside.
Step 2
Add onion to skillet; cook, stirring occasionally, until softened and just golden, about 10 minutes. Stir in garlic and crushed red pepper. Cook, stirring constantly, until fragrant, about 1 minute.
Step 3
Add collard greens to skillet, about 2 cups at a time, folding greens into onion mixture. When all the greens have been incorporated, add about 1 1/2 cups of chicken broth, leaving 1 inch of greens not submerged. Increase heat and bring to boiling; reduce heat and simmer until tender but not mushy, 30 to 45 minutes.
Step 4
Gently stir in apples. Season with salt and black pepper. Serve.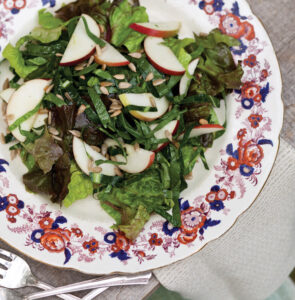 7. Buttermilk fried chicken

The Origin for African Americans :
Fried chicken for African Americans has always been a sample. Going from the gospel bird to a chicken obsession stereotype. There is a strong infra-political dynamic that plays a role with chicken in African American cuisine. Indeed, with the gospel bird that played this particular role of commensality, we can understand a bit more that food is not a neutral element. It would be a different approach if I was mentioning the Preacher Parts that would give this idea of individuality and the strong power dynamic.
I believe that indeed chicken is a big part of the construction of the black identity if we see it as a traditional dish that brings a lot of history but not as a stereotype of masculinity or any of this genre.

Facts about the dish :
"Buttermilk tenderizes the meat, helps ensure a good coating, and adds flavors". (Moose, D p.30)

Why is it included in this meal? :
This buttermilk fried chicken is the only dish that includes meat in this meal. I find that crispy fried chicken is always the ultimate comfort food. Therefore I particularly wanted to include that one. It also allows me to present this challenge that African Americans have to face with this stereotype still up to date.

Recipe :
Ingredients:
Buttermilk Soak
3 cups buttermilk
2 tablespoons kosher salt
1 tablespoon freshly ground black pepper
2 teaspoons cayenne pepper
4 pounds of chicken parts, including medium chicken wings, thighs, and drumsticks
Flour Dredge
2 cups all-purpose flour
1 teaspoon onion powder
1 teaspoon garlic powder
1 teaspoon kosher salt
1 teaspoon freshly ground black pepper
1/2 teaspoon cayenne pepper
Vegetable oil, for frying

Instructions:

Step 1: Make the buttermilk soak: In a large bowl, combine the buttermilk with the salt, black pepper, and cayenne.

Step 2: Add the chicken and stir to coat. Let stand at room temperature for 2 hours or refrigerate for 4 hours

Step 3: In a large, resealable plastic bag, mix the flour with the onion powder, garlic powder, salt, black pepper, and cayenne; shake to combine.

Step 4: Set a rack on a baking sheet. Working with one piece at a time, remove the chicken from the buttermilk soak, letting the excess drip back into the bowl. Dredge the chicken in the flour mixture, pressing it so it adheres all over. Transfer the coated chicken to the rack and let stand for 30 minutes.

Step 5: In a deep skillet, heat 1 inch of the oil to 350°F. Set another rack over a baking sheet lined with paper towels. Fry the chicken in batches, maintaining the oil temperature at 315°F; turn once, until golden and an instant-read thermometer inserted in the thickest part of each piece registers 160°F, 15 to 18 minutes.

Step 6: Transfer the chicken to the rack and let stand for 5 minutes before serving.

Recipe from: Parisi, G. (2023, April 16). Crispy Buttermilk Fried Chicken. Food & Wine. https://www.foodandwine.com/recipes/crispy-buttermilk-fried-chicken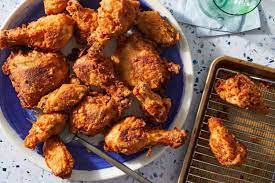 Bibliography:

-Black Peoples Recipes. (2023). Blackpeoplesrecipes.com. blackpeoplesrecipes.com. https://blackpeoplesrecipes.com/

-Miller, A. (2013). Soul Food: The Surprising Story of American Cuisine, one plate at a Time. The University of North Carolina Press.

-Onwuachi, K., & Stein, J. D. (2020). Notes from a Young Black Chef: A memoir. Alfred A. Knopf.

-Bower, A. (2007). African American Foodways: Explorations of History and Culture. Google Books. https://books.google.com/books/about/African_American_Foodways.html?id=gF8NCxGHyMMC

-Jagger, K., & Toback, F. (2021, May 26). Watch High on the Hog: How african american cuisine transformed America: Netflix official site. Watch High on the Hog: How African American Cuisine Transformed America | Netflix Official Site. https://www.netflix.com/title/81034518

-Hill, M. (2021, July 25). Cranberry Sauce with apples. Culinary Hill. https://www.culinaryhill.com/cranberry-sauce-with-apples-and-cinnamon/

-Lee, H. G. (2020, May 1). Okra has an interesting food history. The Daily Progress. https://dailyprogress.com/okra-has-an-interesting-food-history/article_b49d5bf3-30d6-5ae2-aa15-3de9450ae1be.html

-Parisi, G. (2023, April 16). Crispy Buttermilk Fried Chicken. Food & Wine. https://www.foodandwine.com/recipes/crispy-buttermilk-fried-chicken

-Moose, D. (2023, February 1). Buttermilk: A Savor the South cookbook: Paperback. Barnes & Noble. https://www.barnesandnoble.com/w/buttermilk-debbie-moose/1110929927 -Tasty – food videos and recipes. tasty. co. (n.d.). https://tasty.co/

-Mitchell, D. B. (2021a, October 29). The Gospel Bird: Why Southern Fried Chicken is One of the most debated dishes in black food history. Dallas News. https://www.dallasnews.com/food/cooking/2021/10/29/the-gospel-bird-why-southern-fried-chicken-is-one-of-the-most-debated-dishes-in-black-food-history/

-Harris, J. B. (2012). High on the hog: A culinary journey from Africa to America. Bloomsbury.
Photos copyright:
-Crawford, B. (2022, August 2). Southern Cornbread Recipe. blackpeoplesrecipes.com. https://blackpeoplesrecipes.com/southern-cornbread-recipe/
-Stephanie. (2020, September 24). Black-eyed Pea Hummus (vegan, gluten-free). Apples for CJ. https://stephaniesain.com/black-eyed-pea-hummus/
-Hill, M. (2021, July 25). Cranberry Sauce with apples. Culinary Hill. https://www.culinaryhill.com/cranberry-sauce-with-apples-and-cinnamon/
-Thigpen, S. (2022, January 30). Peppery grilled okra with lemon-basil dipping sauce. Life, Love, and Good Food. https://lifeloveandgoodfood.com/peppery-grilled-okra/
–Yearwood, T. (2014, October 31). Baked macaroni and cheese. Food Network. https://www.foodnetwork.com/recipes/trisha-yearwood/baked-macaroni-and-cheese-2637291
–Taste of the South. (2014, November 7). Collard-apple salad with Cider Vinaigrette – Taste of the South Magazine. Taste of the South. https://www.tasteofthesouthmagazine.com/collard-apple-salad-cider-vinaigrette/
-Parisi, G. (2023, April 16). Crispy Buttermilk Fried Chicken. Food & Wine. https://www.foodandwine.com/recipes/crispy-buttermilk-fried-chicken