Where I grew up is a small county in Suzhou, China 🇨🇳  (Note that counties in China are smaller than cities, they are parts of cities). It is called Kunshan. First let's start with its location. Kunshan is located at southeast of Jiangsu Province, it is right next to Shanghai. It has a Subtropical monsoon climate that the summer is hot and rainy, and winter is cooler and wetter comparing to other places in the same latitude. This county possesses a total area of 931 square kilometers, of which more than 24% is water surface since there are 4 major lakes and 2 rivers run through it. Among the 4 lakes, Yangcheng Lake is the most famous water body that produces freshwater crabs in China, and the exact town I grew up in.
Zhouzhuang, a famous Chinese historical and cultural town located in the south of the cities on the shore of Dianshan Lake, is a typical ancient town in the waterfront of the south of the Yangtze River, famous for the paintings of painter Yifei Chen depicting the atmosphere of the town. The town has great traditional Chinese south architectures, which attracts a large number of tourists here.
Another great culture of Kunshan is that Kunshan is the birthplace of Kunqu, so called "The King of All Chinese Opera". As for the food, it serves a traditional Y
angtze river delta style of cooking. All the dishes are subtleness, they are like the women of Y
angtze river delta
, small and delicate, gentle as jade. For example, Aozao noodle is  the most famous noodle among all cities in
Y
angtze river delta, and there are Dongpo Pork, Shrimp with Jitou Rice, stewed Pork with brown sauce, Salted-water duck.
From the discussion, every member is from a different part of the world which is fascinating.
One of my classmates are from Tabarka, Tunisia🇹🇳. A country situated on the Mediterranean coast of Northwest Africa shares a distinct culture and environment. It is a coastal town located in north-western Tunisia, close to the border with Algeria. Tunisia's climate is Mediterranean in the north, with mild rainy winters and hot, dry summers. Tabarka's history is a mosaic of Berber, Punic, Hellenistic, Roman, Arabic, Genoese and Turkish culture. From my perspective, it perfectly represents the integration of African culture, Eastern culture and Western culture.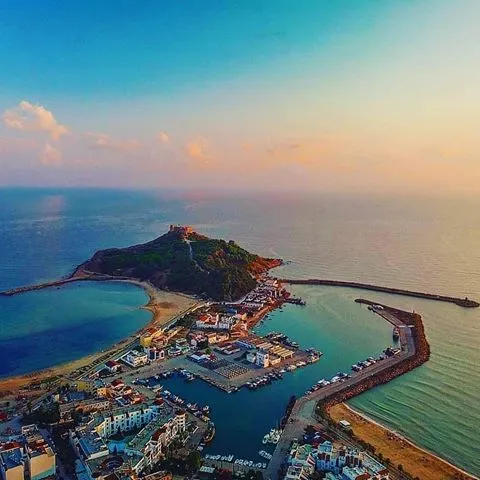 Another my classmates is from Toulouse, France 🇫🇷 . It has Mediterranean temperate marine climateJust like Marseille and Paris, Toulouse is rich in history, a city of French art and history. Passion and romance are Toulouse people's tags.
Clara is from Connecticut, USA. Connecticut is the southernmost state in the New England region of the Northeastern United States. Among the ancestors of Connecticut residents, Italian-Americans (18.6%) are the most numerous, followed by Irish (16.6%), English (10.3%), German (9.9%), and Polish (8.3%). It shares similar climate, American value and ideology just like most northern states in the United States.
Another two classmates are both from Sharjarh, UAE 🇦🇪 . Sharjah is located on the northern coast of the Arabian Peninsula, bordering the Persian Gulf and it is the capital of the eponymous emirate. Sharjah has a hot desert climate, with warm winters and extremely hot summers.
Among all the things we discussed, the most interesting difference between us is that Clara and Rebecca who are USA and France share similar culture norms but France more on felmale ideology from their outfit while the rest of us share a distinct culture value comparing to them. Although Tunisia, UAE, and China indeed has different social ideology and culture norms, but roughly there are similarities. For example, Sharjarh and China both gave up "privacy" for the sake of "safe" when dealing with public safety especially on the sidewalks. From these we could see how government implementations coorporate with anthropological ideas to shape and maintain the society.