By Christine Marsh '22
This Monday, March 4th, marked the beginning of the Spring 2022 SpanPort film series. This semester's series is titled "Concerning Violence"- a series that focuses on films about violence in the Latin American sphere.
The first film of the series was Sin Nombre, directed by Cary Joji Fukunaga. The film premiered at the Sundance Film Festival in 2009 and tells a harrowing story about the struggles of Mexican immigrants trying to cross the border and the ongoing threats of gang violence.
Many students from professor Quiroga and Sosa's classes were in attendance, as these classes focus on issues surrounding immigration and the persisting problems in countries south of the US/Mexican border.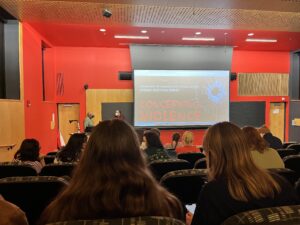 A view of Althouse 106, as professor Quiroga provides information on this semester's theme: "Concerning Violence".
The next film in the series is In the Time of Butterflies, a Dominican film about oppression and opposition during the Trujillo regime of the Dominican Republic. Each film will take place in Althouse 106 at 6:30pm.