Katrina Jurgill Briddell '01, Head of Social Impact & Community Investment at The Hershey Company
How do we live life with intention and with wonder and delight–while witnessing the injustice, darkness, division, and pain in the world?  What does it mean to balance responsibility to our family, community, and world while prioritizing joy, fun, growth, and our own experience of life? Katrina Jurgill Briddell '01 will be the first to tell you she does not have all the answers, but she will share how her life was shaped by sitting with these questions and engaging with them along the way.  In this session, she explores lessons from her personal and professional journey—from her time studying Spanish and Religion at Dickinson to her work today in social impact and sustainability—and how an evolving vision of "the Good Life" has served as a guide on her path through life.
This program is sponsored by the Clarke Forum for Contemporary Issues and co-sponsored by the Department of Spanish & Portuguese Studies. This program is part of the Good Life Series  and also part  the Clarke Forum's Leadership in an Age of Uncertainty Series.
Wednesday, September 21, 2022
Stern Great Room, 7 p.m.
Biography (provided by the speaker)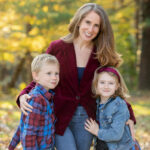 Katrina Jurgill Briddell '01 is a human work in progress, always trying to make sense of the world around her and, despite the odds, leave it in a better place than she found it. After majoring in Spanish and religion at Dickinson College and earning a master's in theological studies from Emory University, where she studied comparative religion and American religious practices, Briddell spent more than a decade in the Washington, DC nonprofit sector as a grant writer and nonprofit administrator. She served as a senior director at Arabella Advisors, a strategic philanthropy consulting firm, where she guided foundations, families, and companies in achieving their social change strategies. In 2016, she joined The Hershey Company, where she currently leads Social Impact and Environmental, Social, and Governance (ESG), overseeing Hershey's global philanthropy, community investment, and social impact initiatives. She frequently advises brands on ways to more authentically use their platforms, products, and operations to advance social and environmental impact. Work aside, you can usually find Briddell hiking on local trails, playing with her kids, writing for her mental well-being, and traveling with friends to see her all-time-favorite band, Phish, at venues across the US and beyond. Briddell lives with her partner Matt and their two children, Leo & Miriam, in Hershey, PA, where every day she tries, and joyfully fails, to do it all.