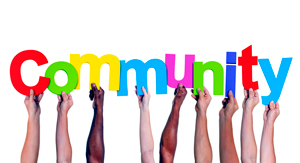 I belong to several communities at once. First, there is my family, where I am a wife and mother, then my university community where I am a student, and then my new community of international companions at the Army War College in Carlisle, U.S.A., which I am going to talk about today because it is one of the most interesting communities I have experienced. we are more than 70 nationalities from different countries of the world. we have been here for a year, 8 months so far. At the beginning, we divided into groups according to language, race and religion.
For me, I was in the arab and muslim group, being from tunisia, i felt a sense of belonging to them, especially the north african countries, but the south and north american countries were a stranger to me because of the geographical distance between us and the spanish language. I 'am social by nature, so I have tried to get closer to other nationalities, so all my perceptions of them have changed. I feel comfortable with them, and they have accepted me as I am, without putting pressure on me to change. they support me and help me grow as a person. Each of us respected each other's customs and traditions, because in the beginning I found out that most of them had no knowledge of the Islamic religion and Arabic language, so we learned a lot from each other, and I had a greater opportunity with them to progress in the English language because it is the only language we can communicate. Communication builds my credibility and confidence and allows me to talk about my culture and beliefs. The benefits of communicating with people from different cultures are many. Connecting with people from other countries helps me build a proper personal life. Mastering the art of effective communication makes me more productive while allowing me to maintain healthy relationships with my friends and peers. Again, understanding other cultures helps my intelligence, verbal fluency and awareness. Communicating with people from different cultures also exposes me to various essential skills such as problem solving and stress management. I want to meet people from other cultures to connect with the rapidly changing world, learn their practices, acquire new ways of performing tasks, and understand them from a personal perspective. At the end of the day, we are all the same, we all want the same things: food, a roof over our heads, a decent way of life and a certain level of happiness. From a professional point of view, it's about achieving success and/or making a difference. And while our actions and means to achieve this may be different, our intentions are not much different.
To sum up, my experience living in the United States has been wonderful. I have met so many amazing people, had so many wonderful experiences, dealt with my fair share of good and bad things, and learned so much about myself (professionally and personally) and the world around us, but I will miss my community immensely when I return home.