Luce Initiative on Asian Studies and the Environment
Seismic Japan is a summer study group examining the history, culture and science of earthquakes in Japan. This course is intended to provide students with an in-depth understanding of the science and culture of earthquake in Japan, one of the most earthquake prone countries in the world. Through lectures, class discussions, field-trips, student exchanges, meetings with scientists, students will come to appreciate the complex history of human interaction with the destructive forces of the earth in Japan. We hope this will encourage interdisciplinary interaction and allow students outside the department to experience Japan. In the long term, we hope this will make Japan more visible on campus, especially in the sciences. We will have field trips to various sites to observe the geology and the devastating impacts of seismicity, do labs to understand the science behind earthquakes, read fiction that was inspired by earthquakes and more.
Seismic Japan is overseen by Professors Alex Bates and Peter Sak
Alex Bates is an assistant professor at Dickinson College specializing in modern Japanese literature and film. He graduated with his BA from Brigham Young University and has a PhD from the University of Michigan. Professor Bates is currently revising a book manuscript focused on how authors and filmmakers represented the 1923 earthquake that destroyed Tokyo.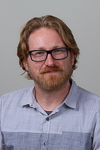 Peter Sak received a  BA in Geology from Whitman College (Walla Walla, WA) where he conducted research in southern Ontario and the Northwest Frontier Province of Pakistan.  After graduating, he worked for the USGS (Water Resources Division) and as a consulting geologist in Seattle, WA before completing his graduate studies at Penn State University.  His PhD research focused on the tectonic and landscape evolution of the Pacific coast of Costa Rica.  Currently Sak is an associate professor and chair of the Earth Sciences Department at Dickinson College.  He has diverse research interests spanning from low temperature aqueous geochemistry, to classical structural geology, to landscape evolution. Recently, Sak sailed as a sedimentologist on IODP expedition 334 (offshore of Costa Rica) where he quantified rates of subduction erosion inboard of the sub ducting Cocos Ridge. He is a past councilor of the Council for Undergraduate Research Geoscience Division and a member of the U.S. Advisory Committee for Ocean Drilling. He has active research projects in Pennsylvania, Colorado, Costa Rica, and Guadeloupe.