Dickinson College students now have a new medium to reach President William Durden: the radio. Starting this September, on the last Thursday of the month at noon, Marc Katz '10 will be hosting an hour-long interview with President William G. Durden '71 on WDCV 88.3 FM, answering questions submitted by anyone who is interested in hearing directly from the President of Dickinson College.
Both Katz and Durden are very excited for the show's commencement and its potential. "President Durden has always been very approachable on and off campus," said Katz. "The show is another way of him reaching out to the Dickinson community."
Durden is especially enthusiastic for the show. "I personally see it as but another venue to communicate with the community, talk with folks further about higher education…most likely, have a chance to deal directly with the robust rumors that populate environments such as school and college campuses," he said.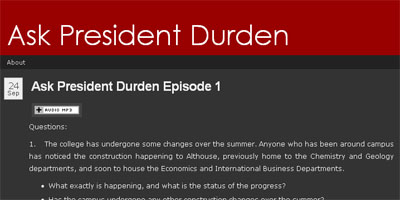 Questions can deal with such diverse issues as rumors on campus, campus activities, student problems, academic interests, world issues, and the like. Comments, in addition to questions, are also welcome.
The show is directed toward the whole Dickinson community, not only students. Faculty, staff, and alumni are invited to submit questions and comments, as are parents and Carlisle residents.
"I know a lot of students have questions about the new policies on campus and the best person to talk to about these things is the President," said George Mazzoli '10.
The show, entitled "Ask President Durden," will air at noon on Thursdays during common hour to maximize the amount of potential listeners. It will be replayed the following Thursdays at the same time until the new show has aired. In addition, a live stream of WDCV will be available online through the WDCV webpage, www.wdcvfm.com.Anyone who wishes to hear the show at any time can catch it on the Dickinson College webpage.
Students who wish to submit a question to President Durden must send in their questions by midnight on the Sunday prior to the show's airing to Katz at  katzm at dickinson.edu. Although anonymous e-mailswill not be accepted, names will not be read on air. Questions should be submitted with the subject "Ask President Durden."