I am very grateful for this experience and to be able to connect with students from across the world.  During the zoom session, I couldn't help but to be drawn to the map created to show where everyone was originally from. I could not believe the great amount of diversity of where my peers originally came from.
In my specific small group there were five participants including myself.  I am from Weirton, West Virginia (close to Pittsburgh), and the four others were from Pittsburgh, Pennsylvania, Silversprings, Maryland, and the other two were from Sharjah and Pakistan.  We were very thrilled to meet each other and our conversion was immediately intriguing.  We briefly discussed different topics such as stereotyping each other's people, politics, news, and elections.
 I was very interested to hear the personal experiences of the student's from the American University of Sharjah.  As we began our discussion we realized that our countries had more in common than we initially hypothesized.  The first similarity that came to light was that both Dickinson and the American University of Sharjah are extremely diverse.  The Dickinson students stated that we were not fully aware of how many amazing individuals we would meet here who were from all over the world.  The students from the UAE also agreed and didn't realize that their school would be populated by students from across the globe.  As a group, we continued by conversing about how both our nation's generalize each other's people and can tend to have a basic stereotypical idea of one another.  Luckily, one of the members of our group grew up in the United States and is currently attending the American University of Sharjah.  This was a perfect viewpoint of someone who has experienced both cultures first hand.  In her opinion, both stereotypes are very inaccurate.  We agreed that the media has much to do with the image that is being portrayed of the people of the middle east and the people of the western world. We then discussed that not only does the United States's news, tend to be political and biased, tell the stories on only the topics that "they" want the people to hear, and focuses on events occurring nationally, while simultaneously neglecting international events, but the UAE does it as well according to our fellow peers.  Lastly, we spoke of politics with a focus on how the citizens of the United States of America and the United Arab Emirates are involved during election time.  Because the United States is a Democracy, the other students from Dickinson and I expressed  that during election time, whether local, state, or federal, it is common to see individuals promoting their political party/ candidate and voicing their opinions.  In contrast, the students from Sharjah said that because the United Arab Emirates is a Monarchy, there is barely any election conversation because they are not involved. Below I have attached two visuals of students interacting with each other on Dickinson's Campus and also a picture of students at the American University of Sharjah to further support our opinions and findings about diversity on campus. 
UAE STUDENTS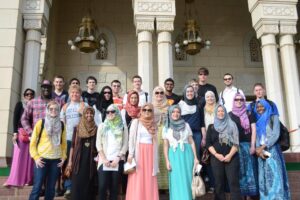 . DICKINSON STUDENTS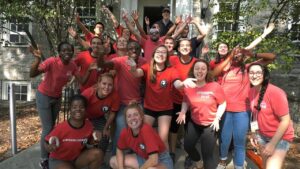 UAE Student picture:
https://aus.studioabroad.com/index.cfm?FuseAction=Programs.ViewProgram&Program_ID=27748.
Dickinson picture:
https://www.dickinson.edu/news/article/3364/.