Throughout the Eastern shore, Maryland, various ethnicities, races, and religions are prevalent but this does not guarantee an integrated community, or at least by my standards. To have this community, you need unification, the consideration of all individuals, and a balance of power in the political realm. My small-town lacks some of these building blocks, and I am fortunate enough to be able to travel and get a deeper understanding of the world around me.
       When I think of the outsiders in my community- I think of the lower-class areas or the ones that are predominant in a religion other than Christianity. These groups of people are not represented in our central part of town where the community gathers. Over the past decade, a couple of upper-class entrepreneurs from New York have bought almost every single building on this main street- turning it into high end restaurants. Consequently, the middle class, family-owned businesses have had to shut down due to the competition. The main entrepreneur behind all of this has publicly stated he wants Easton, Maryland to become the new hotspot for wealthy New Yorkers.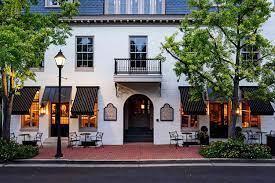 These drastic changes have angered many people, with them arguing that it is gentrification, and I am one of these people. Groups of people have contacted our local government and written letters, but no one has put an end to it. Not only are these restaurants overpriced, but they also fail to include cultural cuisine. The "outsider" restaurants, ones that serve Indian or Chinese food are placed elsewhere, such as in a strip mall.
      The Muslim community in my town is concentrated in one area and this goes for other communities of color. While we do have programs for some of these communities, they are placed in poorer areas where the upper class do not ever go. For example, the BAAM center (Building African American Minds), is a great program for the youth, but it is hidden from the public eye. My perception of these communities and neighborhoods is positive but I believe that is because I went to my local public high school which allowed me to get know them as individuals. On the other hand, the private school in my town, just five miles from the public school, is predominantly white and this engrained a different perception into the minds of students there.
     Taking all of this into consideration, a lot can be learned when studying the MENA region. It is vital that we do not group the individuals of these countries into one because then we will never understand the historic or modern-day conflicts, institutions, and societies. Religion and ethnicity are the root of these three things, or the tools, depending on the paradigm that you believe in, and one must get a deeper understanding of the various groups of people here. I am grateful that I was able to incorporate myself into the world of "outsiders" in my town through public school and have continued to do this at Dickinson where diversity is prevalent.