By Nina Jean-Jacques
Mosquitoes are known to be annoying. There are more annoying in poverty stricken countries where they spread diseases. The major health issue concerning mosquitoes is the spread of malaria. Researchers at Case Western Reserve University are finding that a blood type in African populations no longer protects against a specific type of malarial infection. Sub-populations in African previously showed a resistance to P. vivax malaria by having a Duffy-negative blood type. Not having the Duffy blood protein disabled the parasite from infecting red blood cells. However, a study was performed on over 600 people from different communities in Madagascar and found that 10% of people exhibiting the disease were, in fact, Duffy-negative.
This new ability of infection in these populations may be due to population mixing. Many people from Southeast Asia now live in Madagascar. These Southeast Asians are Duffy-positive. The children of those from both Duffy-negative and Duffy-positive parents show susceptibility to infections. Peter A. Zimmerman, Ph.D ., a researcher at Case Western Reserve University states that "the study confirms that P. vivax is not dependent on the Duffy antigen for establishing blood-stage infection and disease in Madagascar." This new finding has a great impact all over Africa, where this natural immunity is the best defense against P. vivax malaria. There are approximately three million new cases of P. vivax malaria infections reported every year.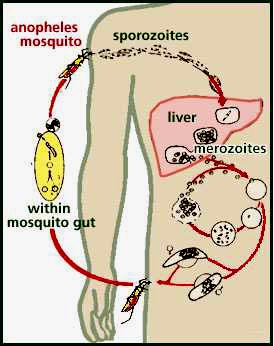 When mosquitoes bite a person infected with the disease, the malaria causing parasite is taken in as well. The mosquito then bites a healthy person, injecting the parasite into the person's blood stream. Malaria is one of the "big three" diseases in the world because the parasites are so easily spread. It is particularly endemic in Africa where treatment is limited. There are five types of parasites of parasites that cause malaria. Most anti-malaria campaigns focus on the P. falciparum malarial infection. New efforts must be put in place to fight the P. vivax infections.
(source)