Richmond
Chimborazo Park is on the hillside site of a huge hospital that once cared for over 75,000 wounded Confederate soldiers (see contemporary Library of Congress photo below). As one of the largest military hospitals ever built, during the three years that it operated (1862-1865), the mortality rate of the Chimborazo Hospital was slightly under 10%; this means that somewhere approximately 7,500 of these injured did not survive their stay in the on this scenic hill above the James River. The park is named for the highest mountain in Ecuador, a dormant volcano that is also the highest peak near the world's equator.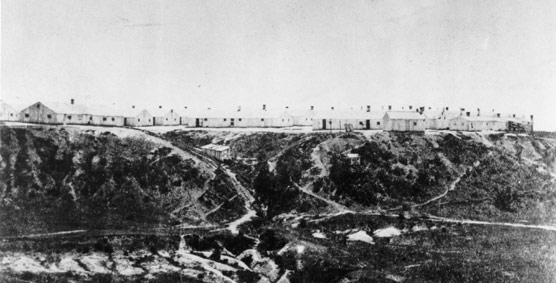 This miniature statue of liberty replica (left), was a gift from the Boy Scouts of America. Its plaque reads: "With the faith and courage of their forefathers who made possible the freedom of these United States the Boy Scouts of America dedicated this copy of the statue of Liberty as a pledge of everlasting fidelity and loyalty 40th Anniversary Crusade to strengthen the arm of liberty, 1950."
Graveyards exist as particularly interesting examples of urbanature; in many cities they form some of the largest sections of relatively untouched flora and fauna in otherwise urban surroundings. Indeed, cemetery grounds often provide not only resting places for the dead, but also important historical sites, tourist attractions, and gardening areas. While not among the largest cemeteries in America–its 130 acres overlooking the James River near the city-center is a long way from Long Island's Calverton cemetery (at 1,045 acres)–here, in Richmond (as might be expected), are final resting places of more Confederate Civil War generals than in any other cemetery in the country. Among the 18,000 Southern soldiers who were interred here, approximately 7,000 were bodies that were moved from their original burial sites on the Gettysburg Battlefield. As the website describes part of Hollywood's distinction: "Among the important people interred there are two American presidents, John [sic James] Monroe, the fifth president and John Tyler, the tenth. Jefferson Davis, the president of the Confederate States, is also buried here as are his son and daughter." A total of 25 confederate generals are buried on the grounds. Along with these rebel commanders, the 18,000 enlisted confederates are commemorated with a 90-foot tall granite pyramid completed in 1869.