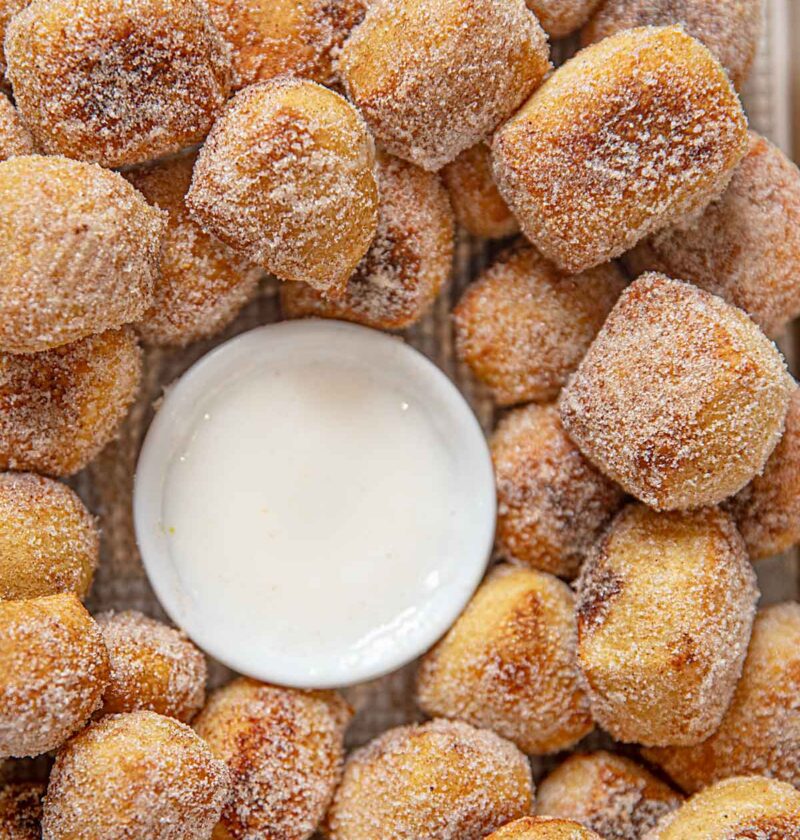 Yields:

70 Servings
Difficulty:

Easy
Prep Time:

40 Mins
Cook Time:

15 Mins
Total Time:

55 Mins
Anyone who's been to a mall has enjoyed their fair share of Wetzel's Pretzels and Auntie Anne's, but are their delicious pretzels feasible to make at home? Today we will be showing how you can scientifically make pretzels that will leave you with no crumbs. But before we can do that, we need to define what makes a pretzel a pretzel? And a good one at that.
The pretzel may be a common snack at a baseball game, but this bread differs from your typical sandwich loaf by its distinct characteristic of crispiness, without (ideally) being burnt. The pretzel involves a different cooking process that incorporates an immersion process that affects the present leavening agents. This unique cooking process can be altered to produce different results for different palettes. We offer some possible changes that anyone at home can make to the standard pretzel bites recipe to alter the results drastically.
Cate: I've been making these pretzel bites for YEARS! They're a great treat to offer to kids, friends, parents, and grandparents. This recipe teaches you how to make the bites , but feel free to add your own touch and make mini pretzels or other fun pretzel shapes.
Cooper: I recommend using Kosher salt as a topping, instead of cinnamon sugar, for a savory treat! Then, try dipping them in a side of mustard! They're grrrreat!
~ ~ ~ ~ ~ ~ ~ ~ ~ ~ ~ ~ ~ ~ ~ ~ ~ ~ ~ ~ ~ ~ ~ ~ ~ ~ ~ ~ ~ ~ ~ ~ ~ ~ ~ ~ ~ ~ ~ ~ ~ ~
To read about the scientific process behind pretzel bites click here: Scientific Process
To see how substituting baking soda and honey for yeast affects your pretzels, click here
To see how removing the baking soda bath and egg wash affects your pretzels, click here
Bibliography of Sources: Sources
Adjust Servings
For the Soft Pretzels:

For the Egg Wash:

For the Baking Soda Bath:

For the Cinnamon Sugar Coating:

For the Cream Cheese Dip:
Preparing the Pretzel Dough:

In a large bowl, dissolve yeast in warm water and stir until mostly combined (for about 1 minute).

Add salt, sugar, and butter, and mix well.

Add the flour, 1 cup at a time, until the dough is no longer sticky. Add more flour 1 TBS at a time if needed. (Dough is ready when it bounces back if poked)

Lightly flour a flat surface and knead dough for 3 minutes, forming a ball.

Oil a large bowl with nonstick spray and place in dough. Cover with a towel and place in a warm area. Let rest for 30 minutes.

Preheat oven to 425°F.

Making the Pretzels and Baking Soda Bath:

Combine the water and baking soda, and bring to a boil.

Remove dough ball from bowl, and cut into 6 sections.

Roll each section into long ropes, roughly 2 ft long, then cut into 1.5-inch pieces.

Drop up to ten bites at a time into the baking soda bath, and let sit for 15-20 seconds. Remove with a slotted spoon and place on a parchment-lined baking sheet.

Baking the Pretzel Bites:

Beat together water and egg in a small bowl. Brush egg mixture over each pretzel bite with a silicone basting brush.

Place in oven and bake for 15 minutes, or until pretzel tops are a light golden brown. Take out of the oven, and let cool.

Finishing Touches:

Combine sugar and cinnamon in a small bowl. In another bowl, melt the 1/4 cup of butter.

Dip the pretzel into the melted butter, and then the cinnamon sugar mixture. Repeat for additional pretzel bites.

Mix together butter and cream cheese until smooth. Add powdered sugar and vanilla, mixing until completely combined.