Female Entrepreneurship | Female Stereotypes | Interview with Chris Gutlotta | Interview with Mary Roell
Female Stereotypes:
Representation in Popular Culture
Competing in a male dominated field such as business, women feel the pressures of having to legitimate their position. When financing her business plan, she had to present to various financial institutions to receive approval for funding. She noted her anxiety about the funding process, "I felt that managing a shop and being in business as long as I was and being a certified appraiser … wasn't enough."[1] She continued to detail the lengths that she went to be viewed as a legitimate candidate for funding. Like many other women in the workplace who feel that they must overcompensate in ability and performance to be taken seriously, Mary Roell's story is no different. This need to excel in all areas is a byproduct of the unfair stereotype of women. [audio:mary-roell-quote-2.mp3]
Women's representation in popular culture facilitates the stereotype of the simple-minded, emotional, and domesticated female. This is perpetuated through various forms of media, including movies, cartoons, and television. Ingrained within society, even Chris Gulotta has fallen victim to the all-encompassing stereotype. When discussing the reasons why women entrepreneurs have been so successful in Carlisle, Chris Gulotta discussed instincts. He began, "Probably, I would say … women instinctively have a better idea of what people are interested in buying. It could be because they do more shopping and then, that's a stereotype, but it's probably not an untrue stereotype."[2] Of course, women and men do not instinctively like shopping or football, but are socialized within certain gender norms. These produce certain stereotypes which plague everyday interactions. [audio:gulotta-quote-2.mp3]
Inadvertently, Chris Gulotta's remarks speak to the pressure placed on women to be smarter businesspeople than men. He discusses the difference between the traditional businesses in Carlisle, predominantly family owned (male owned) versus the female owned businesses. He acknowledges the efficiency with which women operate a business: "This new generation of women-owned-businesses, they know how to market; they know the right product. The combination of those two – that's the ingredient for success."[3] Women like Mary Roell and other women in the community are competitive not by nature, but by choice. They must learn to become business savvy in order to succeed. [audio:gulotta-quote-3.mp3]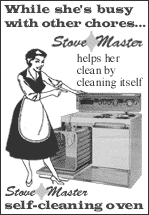 Representations of women as dim-witted shoppers and purely domestic have been internalized within popular culture long before the 21st century. Before motion pictures and popular television series, advertisements were disseminated throughout the country via newspapers and magazines. For example, the advertisement for Stove Master, a self-cleaning oven isolates the women as a housewife within the domestic sphere. It fails to acknowledge the other possibilities available to women, such as business ownership.
In more recent popular culture, the 1980 movie, Nine to Five, three women overturn the power structure in the office by holding their chauvinistic boss hostage for weeks. Previously, the women ran the office efficiently, but never received credit or advancement. All of the women were assumed to be incapable of higher management positions, although they were good enough to run errands and make coffee for their superior. While the boss is out of the office, the women send various memos to the staff with dramatic changes that drastically improve the production rates. This includes job sharing, optimistic office décor, day care options, salary increases, and many more changes that were gracefully adopted. When he finally escapes and returns to the office, he is greeted with praise from the company owner. The movie is a commentary upon the false stereotypes placed upon women and provides an alternate scenario not presented in many mediums of mainstream media.
Nine to Five video clip:


CONCLUSION
Female entrepreneurs in Carlisle, Pennsylvania have contributed to the community both economically and socially. This trend is mirrored throughout many towns within the United States. Their success is attributable to the stereotypes and their desire to succeed regardless. Over time, the stereotypes may morph or completely disappear, but still remain influential within everyday life, both of men and women. Knowing that some may expect less, female entrepreneurs exceed the expectations to become legitimate businesspeople. This leads to a higher stress level and fusion of private and business spheres, but women are attempting to find the balance to succeed.
BIBLIOGRAPHY
Browne, Karla. "Women Get Entrepreneurial Boosts." The Sentinel, June 4, 2006.
Gulotta, Chris. Interview by Molly Osborn. Redevelopment Authority of Cumberland
County, Carlisle, PA. 22 October 2007.
Kafkalas, Jennifer. "A Carlisle Rescue Mission." The Sentinel, January 25, 2004.
Thistle, Susan. From Marriage to the Market. California: University of California Press,
2006.
Roell, Mary. Interview by Molly Osborn. Bedford Street Antiques, Carlisle, PA. 25
October 2007.
---
[1]
Mary Roell interview
[2]
Chris Gulotta interview
[3]
Ibid.