Where did all the Greeks Go? | The Emergence of the "Strip Mall"
The Hamilton Restaurants | The Back Door Cafe
Interview with Bill Seras | Interview with Athen Mazias
Where did all the Greeks Go?
A Brief History
Why Leave Greece?
"Kokolis came over from Greece because back then times were very hard in the village. There was depression, war and famine, and my grandmother had so many kids to take care of. A lot of families were like us. I mean very poor. Kokolis brought them over here. I forget how many but the goal was to give them a better life, make some money, and send some money back over to help out their families." (Athen Mazias of the Hamilton Restaurant)
Greeks, like many other immigrants, came to America solely for economic gains. Much like the rest of Europe, the late 1800's through the early 1900's was a time of economic despair. This economic despair can be broken down into four points:
1. France had just undergone a blight that wiped out their Currant farms. Greek framers saw this as an opportunity to make money and in many cases destroyed their olive farms to be replaced by currants. However, when the French became able to grow currants again, the Greeks suffered a currant market crash because they had to many currants and not enough French buyers. (Meehan, 6)
2. Unfair taxes. The Greek government taxed the peasants ten to forty percent, of their income while the small business owners were only taxed five percent, and the elite were taxed nothing. (Meehan, 6)
3. Mandatory military service. (Meehan, 6)
4. The effects of tradition. The Greek Dowry system allocated for arranged marriage in which the groom was to be given plots of land or money. This led to many Greek men moving to America in hopes of making money to give to their daughter or sister. (Meehan, 7)
Assimilating to the American Work force.
"The Greeks seemed to absorb the Calvinist Work Ethic with their first step on American soil. They abandoned afternoon siestas and long, lazy hours in the coffee shops to work fourteen-hour day -husbands, wives and children side by side. They paid for their homes and automobiles in cash." (Anonymous Greek immigrant observing his compatriots)
The majority of Greek immigrants primarily took jobs as laborers in cities because for the most part English was not required. However, once they had saved up a little money and picked up the a little for the English language they quit their jobs, moved out of the city and in many cases started some kind of business of their own. Although the majority of initial Greek-owned businesses were as simple as fruit vendors, shoe shiners or hotdog stands the Greek population found self-satisfaction in working for themselves. (Meehan, 13)
The first Greek owned business in Carlisle was a shoe-shine-cigar-pool-hall combination, owned by Leftani Janavaris on West High Street in the early 1900's. However by 1911, the installation of the train and automobiles led to an increase in human traffic. In addition many of the workers in Carlisle were boarder that did not have a kitchen. The Greek population realized this and decided the best way to capitalize on it was to create restaurants with low cost meals and leaser activity business such as tobacco and candy stores along with pool halls. (Meehan, 14)
What this transformed into…
The Candy Shops, Billiard Halls and Tobacco shops transformed into opening many Greek-owned restaurants and businesses.
As follows, a short list of Several Greek-owned Business in Carlisle:
(Meehan, 56, 57,58,59,109,110,129)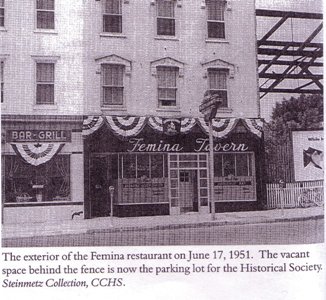 (Picture Courtesy of the CCHS)
The Femina
49 West High Street
George Alexis
1934-1979
Sunset Candy Company
19 West High Street
Alex Janavaris and Charles Bekas
1925-1935
The Crystal Restaurant / The Crystal Lunch
50 West High Street
Nick S. Econom
1917-1925
The Palace
14 West High Street 1920-1924
12 West High Street 1924-1967
Tony Tranores 1920-1967
The Hamilton Resteraunt
55 West High Street
Charles Kollas 1938-1965
Tom Mazias 1965 till Present
Seras Clearners
113 West high Street
Pete Seras 1952-1980
Rodney Rumberger 1980-1993
Tok Mun Kim 1993-2004
Back Door Café
156 West High Street
Pete Seras 1980-1986
Bill Seras 1980 till present
My Mission
Downtown Carlisle used to be full of Greek owned businesses, however if you walk down High Street today, you will find only two. I plan on investigating what happened to the prominence of Greek businesses in Carlisle. Also, I plan on finding answers to why only two of the seven businesses I selected above are still in operation. These two Carlisle staples represent a small percentage of what used to be a downtown dominated by Greek-owned businesses. All of the businesses stated above were located on High Street, yet only two of them remain. Carlisle, PA is a town that used to have a high Greek-owned business population. Today, this Greek population has diminished. In the past, the main street of downtown "High Street" was essentially completely Greek-owned, but now with the additions of chain food establishments, such as Subway and the soon to be Starbucks, this is clearly no longer the case. Through interviews, research and the implementation of theories learned in class, I plan on discovering what led to the disappearance of Greek-owned businesses in Carlisle, when this happened and why. I also plan on assessing why the Greek population in Carlisle, although much smaller than before, has had the ability to currently own the majority of the oldest restaurants in Carlisle. I will also investigate what allowed them to do this.