Interview with Karen Barone • Interview with Rev. Jennifer McKenna
Interview with Jeff Wood • Resources
High St. and Hanover St. Intersection, Carlisle, PA. December 5th, 2007. Photograph by Ellen Simon.
What Americans want, trucks deliver. Because trucks move goods, they also reflect the amount America consumes. Carlisle witnesses the transportation of America's consumption with every truck that passes through the town. As a result, Carlisle personally feels the impact of the truck industry and thus America's consumption. While the truck industry's presence in Carlisle has benefited the local economy, the industry has had significant negative impacts on the air quality and business district in Carlisle.
The Trucking Industry in Carlisle
Eighty percent of America's population is within a two day's driving distance from Carlisle.[1] Because of its location in relation to Americans, "about 3,000 long-haul truck loads originate each day in Cumberland and about the same number end their journey here" with approximately "60,000 loads [passing] through daily."[2] The truck traffic that passes through the area carries goods that "account for about one-12th of the country's $12.5 trillion gross domestic product."[3] Trucks transport over "$10 billion worth of goods…through the area" from New York City and "nearly $33 billion in goods [through the] area toward the city."[4]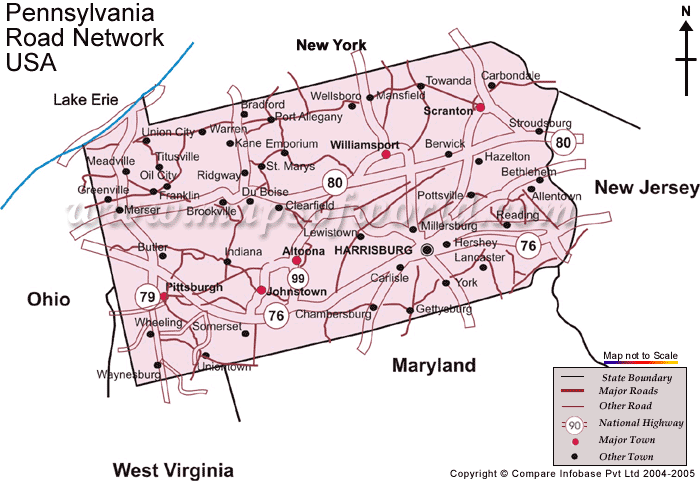 With 15,000 to 20,000 trucks traveling on I-81 in CumberlandCounty daily, "PennDot estimates that 6,000 to 7,000 trucks use the 'Miracle Mile' in MiddlesexTownship each day."[5] The 'Miracle Mile' is located a few miles outside of Carlisle between the turnpike exit and the on-ramp for I-81. Rev. McKenna states that "there are 800 trucks, 24/7, idling out there in those truck stops, and 3000 in just Carlisle and Mechanicsburg and 13,000 in the whole state. And they're idling because the drivers need to stay warm or cool in the summer, so they let their engines run. In fact, some are proud of the fact that they never turn their trucks off. They can go a month at a time and never turn their trucks off."[6]

The trucking industry brings significant economic benefits to Carlisle and the surrounding area. The industry provides 260,000 jobs and $10 billion in wages in South Central Pennsylvania.[7] In addition, the truck industry brought "$41.4 million at its toll [on the Carlisle interchange on the Pennsylvania Turnpike] between June 2006 and March 31, 2007."[8] While Carlisle does not fall within the top ten interchanges on the "highest volume list, Carlisle is the third highest grossing interchange on the Pennsylvania Turnpike."[9] Tolls for trucks are $3.50 to $6.50 depending on the size and weight of the vehicle whereas tolls for cars are $1.25.[10] By providing jobs and paying tolls, the truck industry finances many aspects of Carlisle through individuals and the town.
Constructing Carlisle Area Highways, courtesy of the American Association of State Highway and Transportation Officials.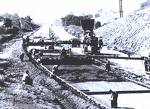 Air Quality in Carlisle
To hear Jeff Woods describe the presence of trucks in Carlisle, click on the play icon
[audio:woods2.mp3]
Trucks that congregate in Carlisle to idle as well as trucks that pass through Carlisle have significant health and economic impacts on the area. Because of the high levels of particulate matter in Carlisle, the American Lung Association "ranked Carlisle 14th of the 25 most polluted counties in America" for short-term particle pollution in 2007.[11] PM2.5 is the most significant cause of air pollution in the county. The largest contributors of PM2.5 to Carlisle's air are "diesel engine exhaust and open burning of waste. At least forty known hazardous substances are found in diesel exhaust, and many of these are carried into the body on fine particles."[12] Because CumberlandCounty has such high levels of diesel PM, the county "ranks in the 96th percentile for highest levels of diesel PM in the country."[13] By inhaling PM2.5, toxic chemical particles "may reach the small airways and air sacs of the lung. Some even pass into the blood stream, [which] causes or exacerbates serious respiratory and cardiovascular problems such as asthma, lung cancer, and heart disease."[14]
Impact on Children's Respiratory Health
The Clean Air Board of Central Pennsylvania (C.A.B.) contends that the air pollution will have significant impacts on the respiratory health of children. Because children "spend more time engaged in vigorous activity outdoors than adults,…they breathe in more air and, therefore, more pollution is taken deeper into their lungs."[15] In fact, the California Environmental Protection Agency's Air Resources Board began the Children's Health Study in 1992 to examine the impact of "chronic air pollution exposures on the health of children."[16] Although the study focuses on children living in Southern California, the results of the study illustrate the lifelong impacts of chronic inhalation of ozone, nitrogen dioxide, acid vapor and "Particulate Matter That is Breathed Deep into the Lungs (PM10, PM2.5)" on children.[17] Because the study observes the impact of long-term inhalation of PM2.5 and because Carlisle has high levels of diesel PM2.5, one could conclude that Carlisle's "air pollution harms children's lungs for life." [18] To see the study and a complete list of its major findings, click here.
Impact on Elders' and Women's Respiratory Health
Carlisle's poor air quality also puts elders and post-menopausal women at risk for respiratory and cardiovascular health problems. In fact, doctors from Johns Hopkins University "conducted a study to estimate the risk for cardiac and respiratory disease from exposure to fine particulate air pollution."[19] The sample population in the study was comprised of 11.5 million Medicare patients who "lived an average of 5.9 miles from a PM2.5 monitor." [20] The researchers concluded that exposure to PM2.5 "'may promote inflammation and thereby exacerbate underlying lung disease and reduce the efficacy of lung-defense mechanisms. Cardiovascular effects may reflect neurogenic [arising in or stimulated by the nerve tissues] and inflammatory processes.'"[21] The study ultimately concludes that exposure to PM2.5 increases the likeliness that a person will be admitted to a hospital for cardiovascular and respiratory disease. These findings present "an ongoing threat to the health of the elderly population from airborne particles."[22]
Furthermore, a study that was published in the February 1, 2007 issue of The New England Journal of Medicine investigated the relationship between long-term exposure to PM2.5 particulates and cardiovascular problems in postmenopausal women. Ultimately, the study concludes that "long-term exposure to fine particulate air pollution is associated with the incidence of cardiovascular disease and death among postmenopausal women."[23] Thus, the youth population is not the only age group that is impacted by Carlisle's poor air quality. Research continues to reveal increasingly traumatic health effects from long-term exposure to PM2.5. Because studies have exposed the affects of Carlisle's air quality on youth, elders and postmenopausal women, one can only expect that more studies will investigate other relationships between long-term exposure to PM2.5 and health issues as well as how other groups of the population are influenced.
To learn how the Diesel Soot Risk in Cumberland County Compares to other Pennsylvania Counties, click here.
Business in Downtown Carlisle
In addition to the impact of diesel fumes on Carlisle citizens' respiratory health, trucks driving through downtown Carlisle create an atmosphere that is not pedestrian friendly. In my interview with Jeff Wood, owner of Whistlestop Bookshop and town historian, he discusses the impact of truck traffic on pedestrians (to hear this audio clip, click on the play icon):
[audio:woods1.mp3]
By creating an environment that people do not feel comfortable in, truck traffic discourages people from shopping downtown on foot. Because people are wary of walking into and through downtown Carlisle, they drive to the stores and add more vehicles to a busy traffic zone.
The combination of trucks and other motor vehicles in downtown Carlisle pose serious safety issues. The speed at which vehicular traffic moves through Carlisle is simply too fast for business and pedestrians. Because people drive so fast, they enter and leave the downtown business area of Carlisle before they have time to recognize what stores are in Carlisle. Furthermore, as the Main Street Manager for the Downtown Carlisle Association (D.C.A.), Karen Barone frequently communicates with downtown business owners. To hear Karen describe the safety concerns of numerous business owners and residents of Carlisle, click on the play icon:
[audio:barone12.mp3]
A Social Movement Grows in Carlisle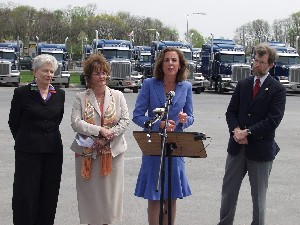 Carlisle's residents advocate for change. C.A.B. (Clean Air Board) recently achieved a great victory-the Environmental Quality Board accepted anti-idling legislation proposed by C.A.B. Therefore, the legislation is "now… in a period of ninety days when there will be hearings held around the state on whether or not people want an anti-idling regulation."[24] In addition to drafting and lobbying for anti-idling legislation, C.A.B. communicates with the truck industry to improve Carlisle's air quality in a way that is favorable to both the Carlisle and trucking community. Furthermore, C.A.B is one of five community groups involved in the construction of a traffic study of Carlisle. The traffic study will examine traffic patterns in Carlisle and ways in which they can be altered to benefit downtown Carlisle and the air quality without hindering people's transportation. To learn more about the origins and work of C.A.B., please read my interview with Rev. McKenna, President of C.A.B.
To hear Rev. McKenna discuss the Carlisle trucking community's involvement with C.A.B. and their stance on anti-idling regulations, please click on the play icon:
[audio:mckenna2.mp3]
The D.C.A. is also working to address the impact of the truck industry on Carlisle. While the D.C.A. recognizes that the truck industry brings major economic benefits to the area, the organization is working with C.A.B. to address the presence of trucks in downtown Carlisle. Karen Barone acknowledges that businesses in downtown Carlisle need deliveries that often come from large trucks. Yet, she suggests that driving through Carlisle may not be the most direct route for trucks that do not have to business in Carlisle. In addition, the D.C.A. recently has met with experts on walkability to improve the atmosphere in downtown Carlisle for pedestrians and is looking to implement traffic-calming techniques. To learn more about the D.C.A.'s efforts in alleviating truck traffic in downtown Carlisle, please read my interview with Karen Barone, Main Street Manager. DickinsonCollege responded to the presence of the truck industry in Carlisle with a $50,000 grant to Carlisle's Borough Council. The money will be used to hire a consultant to conduct a traffic study of Carlisle. Dickinson College's President Durden discusses his interest in financing part of the expense of the traffic study.
Across America: How Other Towns Respond
While Carlisle is a central hub of transportation in America, the impact of motor vehicle traffic influences towns across America. In 2004, it was reported that Winder, Atlanta sought to alleviate "heavy commercial truck traffic."[25] Similar to Carlisle, "Winder …[has] several state highways merge and run through its downtown." [26] In fact, "300 U.S. cities have embraced [traffic calming] and more plan to adopt the traffic plans soon" which illustrates the magnitude of the affects of motor vehicle traffic on America. [27]Cities across the nation have reverse angle parking and are in the process of implementing this parking style. In fact, PennDOT approved Pottstown, Pennsylvania's request for reverse angle parking. To read about how Pottstown convinced PennDOT to approve this alteration to state roads, please read "Back in Angle Parking in the Central Business District" by John A. Nawn, P.E., PTOE .To read Pottstown's proposal to PennDOT, click here[28].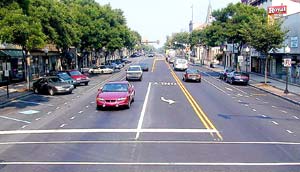 Besides altering how people park, other cities designate certain areas as pedestrian only zones. Successful implementation of pedestrian streets has occurred on "Church Street in Burlington, VT; Downtown Crossing in Boston, MA; Maiden Lane in San Francisco, CA; Occidental Street in Seattle, WA; Third Street Promenade in Santa Monica, CA; and, Fremont Street in Las Vegas, NV."[29] Pedestrian-only streets often raises concerns regarding parking availability. Some cities build parking garages to accommodate visitors. For example, to enable people to visit Santa Monica, there are seven parking garages and metered street parking near the Third Street Promenade. The Third Street Promenade hosts biweekly farmers' markets and arts, books, dining and music events and also "[anchors]…30 city blocks of retail stores, entertainment and dining" in Downtown Santa Monica."[30] To learn about pedestrian streets and malls, please click here.
Conclusion
As a nation, we love to shop whenever we can whether we are buying necessities or luxuries for ourselves or someone else. While it is thrilling to have new things, whatever we buy comes to stores near us from places all over the world. Though our society currently relies on the transportation of goods, how America moves the amount it consumes has serious impacts on towns across America.Some towns only endure negative impacts such as depreciation of the air quality and increased traffic. Other towns, like Carlisle, benefit from the economic rewards the industry brings to the area but also suffer from air pollution and menacing traffic. Why have we allowed trucks to influence our lives like this? What does the role of truck traffic in towns and cities across America tell us about ourselves, our values and what we want for our society? How can we change our towns into communities that prioritize people over vehicles?
---
[1]
Karen Barone, interview by Ellen Simon, November 5, 2007.
[2]
Karla Browne, "Study: Truck Traffic Here to Stay,"
The Sentinel,
8 April 2006.
[3]
Ibid.
[4]
Ibid.
[5]
Clean Air Board of Central Pennsylvania, Inc.,"Why Clean Air Matters for our Kids."
[6]
Rev. Jennifer McKenna, Interview with Ellen Simon, October 26, 2007.
[7]
Browne, "Study: Truck Traffic Here to Stay."
[8]
Naomi Creason, "It's Not the Volume, It's the Trucks,"
The Sentinel
, 7 August 2007.
[9]
Ibid.
[10]
Ibid.
[11]
Browne, "Study: Truck Traffic."
[12]
Clean Air Board of Central Pennsylvania, Inc.,"Why Clean Air Matters for our Kids."
[13]
Ibid.
[14]
Ibid.
[15]
Ibid.
[16]
The Children's Health Study,
http://www.arb.ca.gov/research/chs/chs.htm.
[17]
Ibid.
[18]
Ibid.
[19]
Medical News Today, "Fine Particle Air Pollution Associated with Respiratory and Cardiovascular Disease," www.medicalnewstoday.com/medicalnews.php?newsid=39373.
[20]
Ibid.
[21]
Ibid
[22]
Ibid.
[23]
"Long-Term Exposure to Air Pollution and Incidence of Cardiovascular Events in Women Study 2.1.2007,"
The New England Journal of Medicine,
http://content.nejm.org./cgi/content/full/356/5/447
.
[24]
Rev. Jennifer McKenna.
[25]
Beth Hatcher, "SmallTown Suffers Big Traffic Woes,"
The Augusta Chronicles,
January 5, 2007, B07.
[26]
Ibid.
[27]
CNN Interactive, "Cities Try 'Traffic-Calming' to Revive Communities."
[28]
Pottstown Borough,
Proposed High Street Traffic Calming Plan, www.pottstown.org
[29]
Pedestrian Streets/Malls
, http://www.walkinginfo.org/engineering/traffic-pedestrian.cfm.
[30]
For Visitors,
http://www.downtownsm.com/bvisitors.html.