Carlisle Mapped on Flickr |
Historical Hanover Street | Historical High Street
Welcome to Carlisle! This section of our site is dedicated to physically mapping how Carlisle has changed over the years. If you visit our mapping on Flickr, you will see how we have used that site to overlay multiple photographs of Carlisle on to a physical map of the town. If you visit our pages dedicated to Hanover Street and High Street — the two streets that form the central intersection of our town — you will be able to enjoy a virtual walk in time, comparing images of the past with those of today. Thank you for visiting! And if you would like to add photographs to our site, please visit our contact page!
Click here to see photographs of Carlisle mapped on Flickr.com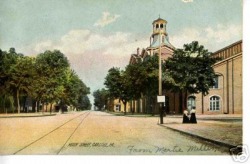 Click here to see how HANOVER STREET has changed
Click here to see how HIGH STREET has changed