About this post: I currently find myself in the midst of final exams and "home for the holidays" is just around the corner. Nothing, and I mean nothing gets me going like some good Christmas tunes, but we've all heard "Jingle Bell Rock" and "White Christmas" about a thousand and one times. So for your listening pleasure, I have compiled my favorite obscure holiday jams to get you in the spirit of the season, no matter what holiday you celebrate. Enjoy!
LISTEN TO PLAYLIST #5 A VERY QUIRKY CHRISTMAS RIGHT HERE!
1. Just Like Christmas – Ingo Star Cruiser
This has to be my favorite Christmas song of all time. For real. The indie-rock artist Ingo Star Cruiser covers Low's Christmas tune "Just Like Christmas" in a way that blows the original out of the water. I couldn't go without giving the band Low due credit for building such a creative and alternative Christmas tune. The song doesn't follow the traditional formula for a holiday hit. Going without the mention of Santa, reindeer, or trees, the lyrics tell a subtle yet endearing story of travelers in a European winter: "By the time we got to Oslo, the snow was gone and we got lost./ The beds were small, but we felt so young./ It was just like Christmas." Ingo Star Cruiser's version adds the sparkle and punch that makes this song so damn Christmasy. Being altogether rollicking, catchy and quirky, you'll find yourself rocking around the Christmas tree to a different tune this year.
2. All That I Want – The Weepies
If you want a song that portrays the true spirit of Christmas, take a listen to "All That I Want" by folk duo The Weepies. This beautiful, heartfelt, and original holiday ballad will make you want to bundle up with your loved ones, go on a snowy nighttime walk, and appreciate the scenery and the truly important things about the holiday season. As a beat is kept by soft jingle bells and warm acoustic guitar, the duet croons words that tug on those sentimental-Christmas-heartstrings of yours: "And when the cold wind's blowing, snow drifts through the pine trees./ In houses lights are glowing, likewise in your eyes that find me here,/ With all that I want."
I adore this winter love song by accomplished singer-songwriter Matt Costa. Only Costa could make an upbeat, lighthearted tune built around lyrics that communicate the sadness of being alone during the cold months of the holidays. While not directly about Christmas, I find "Cold December" still highly suitable to play while decorating the tree.
4. Get Down for the Holidays – Jenny O. 
Indie songstress Jenny O. brought her songwriting talents to the holiday scene in 2010 when she released this gem of a Christmas tune. Contrary to what the title may imply, this song is actually a laid back, cutesie-acoustic diddy that still remains singable and catchy. Jenny covers all the bases in her lyrics: mentioning candy canes, bows, parties, mistletoe, and kicking it with friends.
5. Green Christmas – Barenaked Ladies
The cunning lyrics and signature smile-inducing style of the Barenaked Ladies make for the perfect Christmas song. "Green Christmas" should be a staple in the holiday party playlist for families everywhere. It's fun and catchy, like basically all of their great hits. You'll for sure want to be whistling along to this one while you hang the stockings.
6. Will You Still Be In Love With Me Next Year? – Hot Club de Paris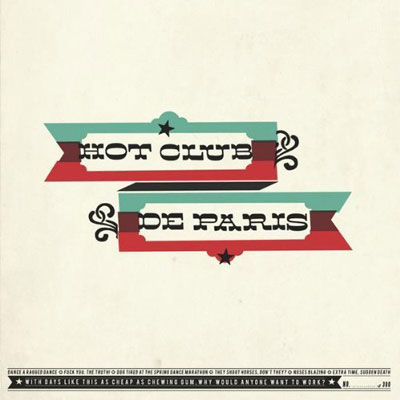 This song comes off of the same album and record label as Ingo Star Cruiser's "Just Like Christmas." Hot Club de Paris is an indie-rock trio from Liverpool, and they bring a delightful pop-punk feel to the holidays in this Christmas jam. Hot Club de Paris is most easily described as a having a similar sound to The Wombats with the lyrical prowess of Lily Allen. In this bittersweet song they declare: "The brutal Northern night fell on the roofless city limits,/ But when you took my hand it felt like Christmas" over a gentle low-fi beat, proving that even punks can melt hearts.
Indie crooner Angus Stone masterfully covers Joni Mitchell's "River." Slow and lamenting, Stone plucks a guitar and softly sings of a heartbreak around Christmastime over the sound of violin strings. Although melancholy, Stone's cover is gorgeous. It is a delight to listen to the trilling highs and velvety lows of his voice while curling up beside the fireplace.
8. Christmas Isn't Christmas – The Boy Least Likely To 
The indie duo known as The Boy Least Likely To will tie this list up with a festive little original Christmas tune. This song combines all the different holiday feelings of the previous artists in the playlist. Although the song is about getting through the holidays after a breakup, the band's spirit reflects an undeniable holiday cheer. In "Christmas Isn't Christmas," they sing that the holidays are made for both nostalgic reflection on past hurts and hardship, as well as snow, mistletoe, and loved ones.
LISTEN TO PLAYLIST #5 A VERY QUIRKY CHRISTMAS RIGHT HERE!