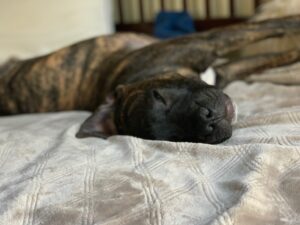 Have you ever been sitting next to your dog when they're sleeping and,  suddenly, they start twitching? Or wincing like they're in pain? Well fear not, they are not hurting. They're only dreaming! You may want to comfort them but they're in such deep sleep, they may not hear you.
Sleep is a biological phenomenon that's been analyzed in humans, and animals, for a long time (Kanda, T., Tsujino, N., Kuramoto, E., Koyama, Y., Susaki, E. A., Chikahisa, S., & Funato, H. 2016). Dreams, deep breathing, REM… it's all a part of the sleeping experience! REM – rapid eye movement – is a sleep state characterized by EEG desynchronization and muscular atonia (Kanda, T., Tsujino, N., Kuramoto, E., Koyama, Y., Susaki, E. A., Chikahisa, S., & Funato, H. 2016). Those words simply mean that our muscle tone decreases and the electrical activity (brain waves) in our brains are out of sync. REM is where most of our dreams happen (Contributors, W. M. D., 2020)! If canines didn't experience muscle atonia during sleep, they would be able to get up and fully act out their dreams. They would be a danger to themselves and to the people around them. Biting someone/something is a possibility or even running into a wall. As funny as that may look, they could really hurt themselves.
You can tell when a dog falls asleep after about 15 minutes. Their breathing gets heavier, they may stick out their tongue, or lie in a funny position. That's how Coco sleeps, without a care in the world.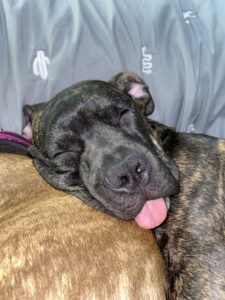 C O C O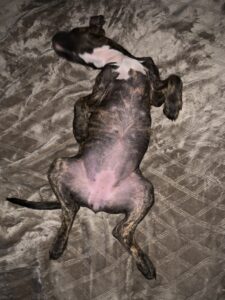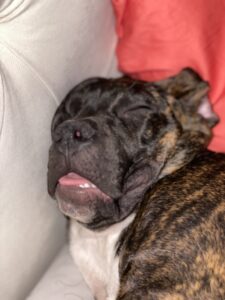 After she falls asleep for a while, she'll start to shake her leg(s), wince, or her face starts twitching. She can't fully move her body because of the muscle atonia she – and we as humans – experience once we get to deep REM sleep. She is acting out her dream but can't fully move her body because of the slight paralysis and loss of muscle tone (2022). These characteristics are brought on by the stimulation of the cholinergic receptors within the pontine brain stem (Nishino, S., Tafti, M., Reid, M. S., Shelton, J., Siegel, J. M., Dement, W. C., & Mignot, E.,1995).
The dreams that dogs act out are unknown to us. Nonetheless, it's known that dogs have the ability to connect on a deeper level with their human counterparts. They have shown the ability to recognize human emotions and even "produce emotion-related vocalizations and postures that humans can easily recognize" (Varga, B., Gergely, A., Galambos, Á., & Kis, A., 2018). So, their dreams can easily be based on their owners since they are with them basically 24/7. However, we do know that their sleep macrostructure (sleep pattern) can be influenced by the interactions (positive or negative) they've had before falling asleep. This is due to their presence in social human environments and their ability to contract human emotion (Kis, A., Gergely, A., Galambos, Á., Abdai, J., Gombos, F., Bódizs, R., & Topál, J., 2017). This means that playtime with your pup or reprimanding can have a profound impact on their sleep.
Anytime Coco, or one of my other dogs, goes to bed, I always ensure to give them kisses and a nice cuddle session so they know they are loved and have a goodnight's rest. Before knowing the science behind it, I was acting in this way because I knew they dreamed. However, I'm glad to see that it realizes a physically positive effect on them!
While these studies do answer questions about your own dog, they also help to answer the questions of animal welfare. Since dogs are the most common pet, they face a plethora of social and environmental stressors (Kis, A., Gergely, A., Galambos, Á., Abdai, J., Gombos, F., Bódizs, R., & Topál, J., 2017). Recognizing how these stressors can impact their sleep, can help to develop new research and techniques for care in the canine field of study.
In the end, before your pup (or senior) goes to sleep, make sure to treat them extra sweet so they can have a goodnight's rest.
---
Varga, B., Gergely, A., Galambos, Á., & Kis, A. (2018). Heart Rate and Heart Rate Variability during Sleep in Family Dogs (Canis familiaris). Moderate Effect of Pre-Sleep Emotions. Animals, 8(7), 107. https://doi.org/10.3390/ani8070107
Kanda, T., Tsujino, N., Kuramoto, E., Koyama, Y., Susaki, E. A., Chikahisa, S., & Funato, H. (2016). Sleep as a biological problem: an overview of frontiers in sleep research. The journal of physiological sciences: JPS, 66(1), 1–13. https://doi.org/10.1007/s12576-015-0414-3
Nishino, S., Tafti, M., Reid, M. S., Shelton, J., Siegel, J. M., Dement, W. C., & Mignot, E. (1995). Muscle atonia is triggered by cholinergic stimulation of the basal forebrain: implication for the pathophysiology of canine narcolepsy. The Journal of neuroscience : the official journal of the Society for Neuroscience, 15(7 Pt 1), 4806–4814. https://doi.org/10.1523/JNEUROSCI.15-07-04806.1995
Kis, A., Gergely, A., Galambos, Á., Abdai, J., Gombos, F., Bódizs, R., & Topál, J. (2017). Sleep macrostructure is modulated by positive and negative social experience in adult pet dogs. Proceedings. Biological sciences, 284(1865), 20171883. https://doi.org/10.1098/rspb.2017.1883
Contributors, W. M. D. (2020, October 16). Stages of sleep: Rem and Non-REM Sleep cycles. WebMD. Retrieved October 8, 2022, from https://www.webmd.com/sleep-disorders/sleep-101
Why do dogs twitch in their sleep? Snoozer Pet Products. (2022, March 17). Retrieved October 9, 2022, from https://snoozerpetproducts.com/2022/04/why-do-dogs-twitch-in-their-sleep/