Certain breeds of dogs are prone to different health problems because of their genetics. Over the past few years Remi has been getting an increasing amount of ear infections. They have caused him severe pain and has resulted in him having to visit the vet more often. Scientists are now exploring more about what specific health diseases Labrador retrievers have and which specific type of Labradors are more prone to them. In a recent study, geneticists used the VetCompass™ program, which collects electronic patient record data on dogs attending UK primary-care veterinary practices, to better describe Labradors demography, mortality and commonly recorded diseases.
Throughout their experiment they evaluated 33,320 Labrador retrievers during 2013 all who were in the VetCompass™ database. The scientists used a random sample of 6.2% of the Labradors from their database for multiple tests to try to better understand their background and health diseases. The results showed that of the 2,074 Labradors they studied, 61.6% had at least one health disease. The most prevalent diseases were otitis externa as 10.4% of Labradors had it and obesity as 8.8% had it (McGreevy et al., 2018). There were also many associations between coat color and health diseases. The scientists found that chocolate Labradors had a significantly higher prevalence of ear and skin disease such as otitis externa and pyo-traumatic dermatitis than any other color Labrador. Their results can help prospective owners learn about potential health issues a Labrador may face.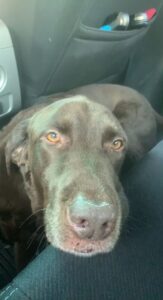 In Remi's case, this study is beneficial to help better understand what health diseases could arise for him. However, sadly, it does put into light what his future might look like and what diseases he may face. Just like in this study, he already suffers from ear disease which we now know is common in chocolate Labradors. It would be interesting to see if this study could further help veterinarians better address Labradors health diseases.
McGreevy, P., Wilson, B., Mansfield, C., Brodbelt, D., Church, D., Dhand, N., Soares Magalhães, R., O'Neill, D. (2018). Labrador retrievers under primary veterinary care in the UK: demography, mortality and disorders. Canine Genet Epidemiol, 5(8), https://doi.org/10.1186/s40575-018-0064-x