One of the greatest attributes of dogs is the idea that they need a significant amount of attention to thrive. As humans, we must contribute to their needs by giving them lots of verbal praise and pets to keep everyone happy. In my blog post, I am focusing on dogs needing attention to live with humans. I am also looking at how this attention is used for communication between dogs and humans.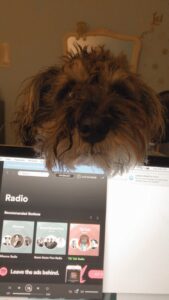 In many articles, researchers have begun to study the idea of attention that many dogs around the world crave. Erica Feuerbacher and Clive Wynne wrote an article titled "Shut up and pet me! Domestic dogs (Canis lupus familiaris) prefer petting to vocal praise in concurrent and single-alternative choice procedure." In this article, they looked at the relationship between dogs receiving vocal praise and pets from their owners. To perform this study, they used dogs and their owners as well as dogs and strangers. Feuerbacher and Wynne found that dogs strongly prefer receiving pets as opposed to praise from humans, whether they know the person or not. In these studies, the dogs rarely reacted to vocal praise from humans. This most likely proves that vocab praising is a conditioned habit dogs must learn in order for this form of communication to succeed between humans and dogs.
Miniature Schnauzers are known as social dogs, and this may be because they require so much attention. They are typically smart, allowing them to get our attention in many unique ways. Miniature Schnauzers always have a ton of energy, which is why they need walks and lots of pets. From the day we adopted Bailey, she has craved our attention and needed everyone to know she is present. She constantly paws at us and requires many hours of pets every day. Although this may be annoying sometimes, I love that she has allowed us to pet her and give her lots of love.
Brennan, K. (2022, April 1). Miniature Schnauzer Temperament & Personality. Canna-Pet®. Retrieved October 9, 2022, from https://canna-pet.com/articles/miniature-schnauzer- temperament-personality/
Feuerbacher, E. N., & Wynne, C. D. (2015). Shut up and pet me! Domestic dogs (Canis lupus familiaris) prefer petting to vocal praise in concurrent and single-alternative choice procedures. Behavioural processes, 110, 47–59. https://doi.org/10.1016/j.beproc. 2014.08.019-