DICKINSON ARCHIVES AND SPECIAL COLLECTIONS
The Dickinson Archives and Special Collections website provides information about the materials housed in the Archives and Special Collections Department of Dickinson College. It includes:
HOUSE DIVIDED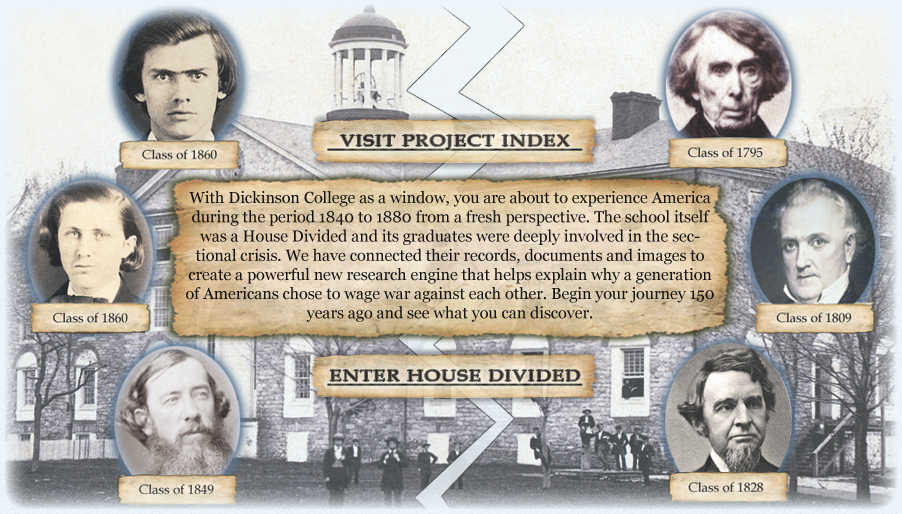 House Divided is a "research engine" developed at Dickinson for K-12 educators that brings the Civil War era to life. Using Dickinson as a window, this digital project helps users experience America during the period from 1840 to 1880, at a time when the college itself was a house divided with graduates playing important roles on both sides of the emerging conflict. The research engine is built in Drupal and holds over 10,000 historic images and tens of thousands of records including stories, timelines, maps and multimedia on people, events, documents, places, topics and sources from the Civil War era. The project began planning in 2005, and a series of proof-of-concept websites were completed in 2007. The formal site was officially launched to the public in April 2011 on the eve of the 150th anniversary of the Civil War. Its various web-based materials continue to expand, improve, and be revised. The constellation of websites that are being built around this engine are typically constructed using WordPress, and the developers aspire to create more focused teaching tools, especially for secondary and undergraduate classrooms. The site has been directed by Matthew Pinsker, Associate Professor of History and Pohanka Chair in American Civil War History at Dickinson, and Emeritus Professor of History John Osborne. It has received assistance from College Archivist Jim Gerencser and Associate Director for Library Collections Christine Bombaro and more than 40 student interns throughout the years.
DICKINSON COLLEGE COMMENTARIES
Dickinson College Commentaries is a digital project developed at and hosted by Dickinson that employs new media to enhance teaching and learning in the field of classical studies. This project provides a new model of textual commentary for readers of Greek and Latin texts that employs digital tools to enhance texts with explanatory notes, vocabulary, and graphic, video, and audio elements. Unlike similar projects such as Perseus, Dickinson College Commentaries is tailored to the needs of users in a way that foregrounds the voice of the scholar, integrates digital publication into existing structures of peer review and professional networks, and makes digital commentary responsive to the best current pedagogy. The project is overseen by Christopher Francese, Professor of Classical Studies at Dickinson, but is guided by a distinguished editorial board comprised of multiple Dickinson faculty members, scholars from the University of Virginia, University of Illinois Urbana Champagne, University of Kentucky, University of New Hampshire, Oxford University, Swarthmore and Sweet Briar Colleges, as well as several K-12 educators.  In 2011-2012 both of the project's pilot commentaries were transferred to a Drupal site. The Caesar excerpts chosen are those to be used in the College Board's Advanced Placement Latin course.  The site is already in use in schools, colleges, and universities across North America. Starting in the fall of 2012, the site will have a ready audience of approximately 6,000 AP Latin students per year.
THE MIXXER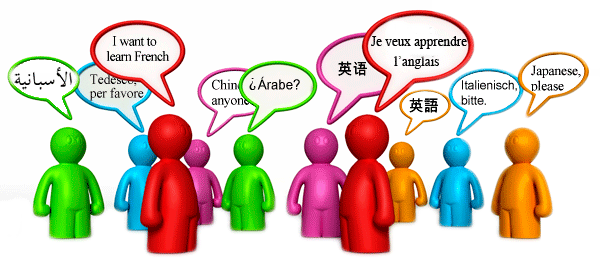 The Mixxer, developed at Dickinson by Todd Bryant, helps Dickinson's language departments harness technology to provide students regular conversations with native speakers—without having to pay for airfare. Offering free international video-phone calls, Skype has long been a boon to language students. Scheduling speaking time with people in a dozen different time zones, however, can make that boon a bit tough to manage.
Enter The Mixxer, a Web application Bryant created that allows language learners around the world to schedule Skype sessions that fit their schedules. Having grown to include more than 70,000 participants, The Mixxer enables Dickinson's faculty to provide students the kind of experience that was once impossible in the classroom.
"When you talk with your classmates and your professors, you get used to how they speak," explains Sondey Olaseun '14, who skyped with Japanese students, business people and grandmothers for 50 minutes every other Friday in his intermediate Japanese class this fall. "But with Skype, you get to hear different voices at different speeds. It really helps with your listening and your comprehension."
Olaseun, who continued to use The Mixxer and Skype to hone his Japanese skills during winter break, sees the experience as the perfect preparation for the Dickinson in Japan program, which he'll embark on next fall. Assistant Professor of Japanese Language and Literature Alex Bates agrees.
"It used to be study abroad was the first chance to have those experiences," says Bates. "But now, starting with their first semester, we can help students move toward those moments when they're thrust into a situation and have to find a way to communicate in a foreign language."

[Text by Matt Getty, excerpted from "Beyond the Blackboard," Dickinson Magazine April 3, 2012. read the full story here.]
MOSACIS
"Mosaics" are integrated four-course semesters that involve Dickinson students in ethnographic fieldwork, oral history projects, and other research in local communities (Carlisle, Steelton, and Adams County in Pennsylvania) as well as internationally (examples include Argentina, Cameroon, Mexico, Venezuela, Tanzania, and Montserrat). Faculty and students have created many digital projects that are displayed on the Community Studies Center website  and are shared with the community members who provided the content for them.
The Patagonia Mosaic is an initiative of recuperation, preservation and diffusion of the historic experience of the community of Comodoro Rivadavia and its zone of influence, together with its regional, national and international connections.
It is a multifaceted project that includes: the investigation, teaching, digitalization of documentary and photographic patrimony; the oral and videographic registry of life histories and historic testimonies; and preservation of the collective memory – activities vital to cultural exchange and community extension. By looking deep into local and regional character, the Patagonia Mosaic aims also to connect to wider national and international study in areas of settlement, migration, and family history.
This ambitious educational undertaking has been begun under the auspices of Dickinson College (Carlisle, Pennsylvania, USA) and the Universidad Nacional de la Patagonia "San Juan Bosco" (Comodoro Rivadavia, Argentina), together with the essential support of the community of Comodoro Rivadavia.
ROMANTIC NATURAL HISTORY
This hypertext project, begun in 1999, surveys and organizes texts, images, and scholarship that link Romanticism and natural history, primarily in the century before Charles Darwin. The site operates like a scholarly text, with the addition of links and interlinks designed to allow readers to move easily from topic to topic, from author to author, and from primary and secondary sources to bibliographic citations. The project seeks to be inclusive as well as evaluative, and welcomes contributions. The project is directed by Ashton Nichols, Professor of English Language and Literature and Walter E. Beach Distinguished Chair in Sustainability Studies. Two student researchers helped in the major architecture and writing of the project, and more than 200 students have worked with the site directly in college classes. In addition, scholars and students from around the world have contributed ideas, corrections, and compliments to the hypertext.  The site has received over 25,000 hits since January 2009 and, as of November 2011, it was receiving approximately 2,000 hits per month. Shelly Freierman, writing in the New York Times "Circuits" section in 2000 said that the site "offers wonderful juxtapositions, like the publication of Jane Austen's 'Sense and Sensibility' and the 'New Idea of the Anatomy of the Brain,' a paper by Charles Bell, in 1811; and the 1832 posthumous publication of 'Faust, Part II,' by Goethe, followed by an 1834 entry noting the invention of the first computer, an 'analytical engine' by Charles Babbage." In addition, the BBC's "Education Web" in London, Romantic Circles at the University of Maryland, and "Site of the Day" from BLTC Research in Britain have all recognized the project for excellence.
Romantic Natural Histories was published as a book in 2004 by Houghton Mifflin.
As the 125th anniversary of Dickinson's transition to coeducation approached, staff at Dickinson's Archives and Special Collections engaged a team of student researchers to scour the records for materials relevant to understanding the experience of the institution's female students, alumnae, faculty, and staff. Launched in January 2009, Women's Experiences at Dickinson College was created as a way to tell the collective story of the women of Dickinson College. Built in Drupal, the blog also functions as a cataloging tool and captures metadata at a level of detail much greater than would be possible with a traditional finding aid.