Every so often the Pop Up Record Shop appears in the HUB and it is a sight of beauty for all music lovers. But it didn't just happen. It was planned. Curated. WDCV has made a years long bond and connection with our friend Dennis to bring music to the Dickinson masses. But here is how it all came to be.
Summer 2013:
Our WDCV's advisor's husband found a yard sale off the beaten path that was something from a strange fairy tale. An abandoned fake western town on the outskirts of Carlisle repurposed to hold old store fixtures, hundreds of mannequins, and records. Thousands and thousands of records. Bizarre. Beautiful.
August 2014:
WDCV partners with the Media Center for a Pre-Orientation program. Carlisle Uncut: Stories off the Beaten Path was a series of stories produced by first year students during the Campus Media Pre-Orientation program. 10 students arrived on a Sunday, interviewed people on Monday, edited on a Tuesday and aired their stories on WDCV by Wednesday morning. It was a fast paced introduction to audio journalism, storytelling and learning about their new home of Carlisle through the eyes of the individuals who live here. WDCV set up 5 stories that we thought needed to be told and set these students out on adventures. One story took them to an abandoned fake western town on the outskirts of Carlisle….
Have you ever stumbled upon a business, house or some other strange place that makes you ponder, "how did I not know this place existed before?". Carlisle has a few of these and one of them is a strange wonderland filled with thousands of records, mannequins and store fixtures for sale in an abandoned fake old western town. It sounds too strange to be true, but that's what makes this such a great story.
a
A Great Idea!
Every great event starts as a great idea. In the fall of 2015 we started planning an event for College Radio Day. College Radio Day was a recent celebration that started in 2011 because many colleges, especially ones in larger metropolitan areas, found that in the budget crunch after the 2008 recession they could make a quick dollar by selling their off their radio license. Internet radio is not the same and to have an educational radio license is something we all need to cherish. One of our execs, Nicholas Gabuzda '18, pondered how we could get more folks to buy records since Carlisle didn't have a shop and he remembered our podcast about Dennis. What if Dennis could bring some of his inventory to us? What if WE could be the record store….for just one day? BEHOLD! The Pop-Up Record Shop was born!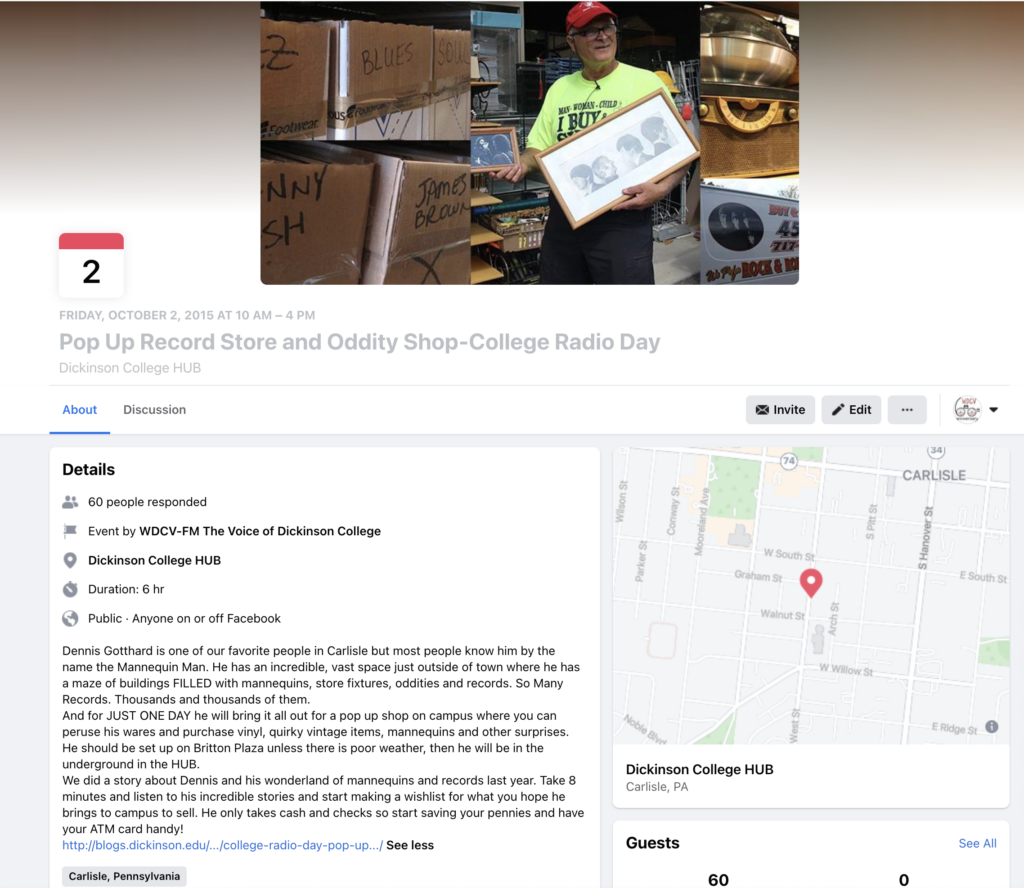 We found that people were ravenous about vinyl so Dennis started returning every few months. The first two shops were able to set up upstairs by the Social Hall and it was a perfect spot that we miss.
Field Trip! November 2015
WDCV wanted to see where the magic happens….so on a COLD November day, we trekked out to Dennis' secret lair and it didn't disappoint.
Where's Dennis?
Sure, you can find Dennis and his crates of magical records on campus every semester but you can also find his treasures downtown at the Carlisle Antique Mall and Miss Ruth's Time Bomb! He vends at the Carlisle Car Shows every summer and Bluegrass on the Grass every July (put on my WDCV's retired advisor and DJ Davis Tracy!).
But we love to see him here and we hope to see YOU at our next Pop up Record Shop!